Oh Finally on 13th July I am writing this article, after four days of my trip from Roopkund (and I publish this article on 23rd July, took me ten days 😛 ).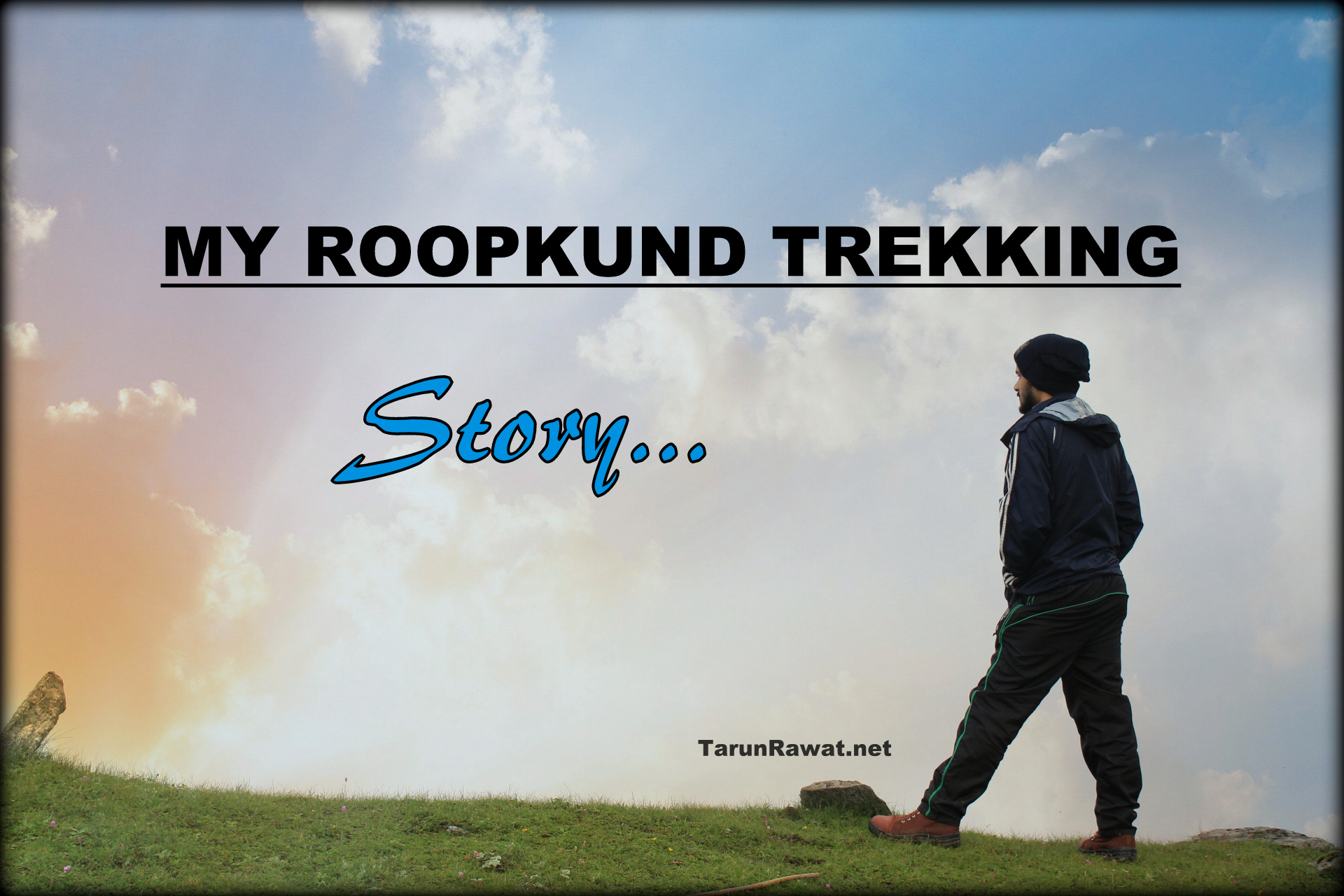 So let me clear first, what you are going to see (read) in this article.
By reading title of article, you can understand that this article describes my Roopkund trek story along with that this article is also helpful for those who planning to trek Roopkund.
Note: If you are planning to go Roopkund on your own or without any organization/company/guide then this article is going to be a goldmine for you, as I am going to provide you lots of ground realities.
So lets, start this Adventure Story !! Sit tight because it going to be thousand km long journey 😉
---
[su_highlight]On 25th May 2017[/su_highlight] I message my friends to go Roopkund with me. And as usual, everyone got excited and agree to go as soon as possible (as starting June is the right season for Roopkund trek) but (there is always a but 😉 ) one of our friend work in Mumbai (Varun) and he needs permission from his office (holiday permission).
Guess what he (Varun) got holiday from 2nd July to 9th July 2017.
Oh man, you can understand what we all have gone through, waiting completely one month for the trip. The crazy thing is that starting of June is the peak season for Roopkund and in end of June Roopkund season gets ended (because of monsoon).
What we can do, as we all want to go there so without thinking much we finalize date and made all reservation for train, from Delhi to Kathgodam and then return journey from Kathgodam to Delhi (train name Ranikhet express).
After a long, wait let me say it again in a perfect manner. After a loooooooooooooong wait and lot of late nights discussion in whatsApp group date comes near. I still remember last one week when we just uploading crazy GIF images and all member of group talking via GIF only ;P (It is a time pass trick you can also try with your gang).
So before I go forward, let me introduce my friends who went with me on this Roopkund Trek.
We are all college friends, did engineering from same college and studied in same class.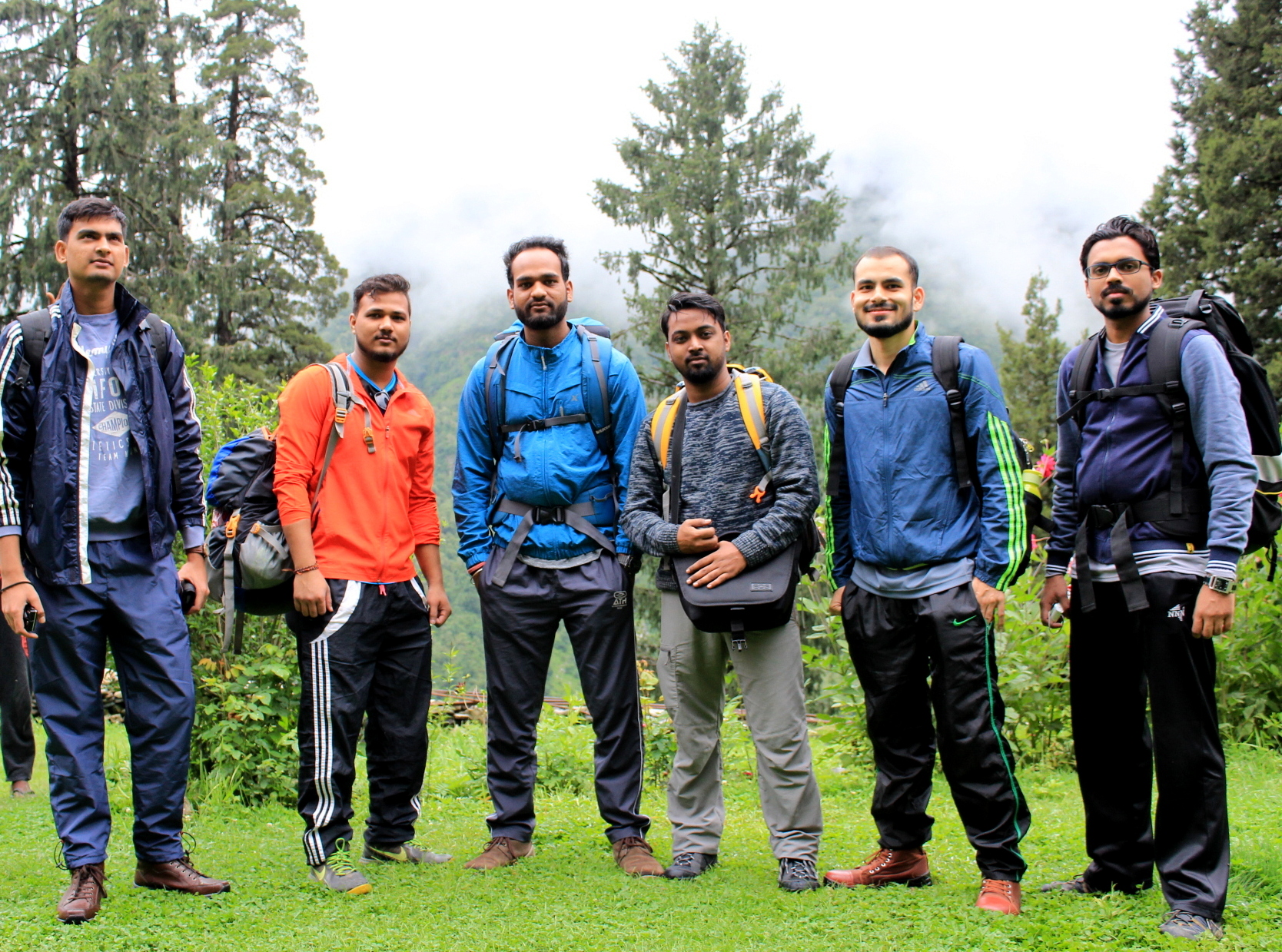 So now the day is here, Varun and Prashant are now in Delhi. We all packed our bag and this is time to leave for railway station.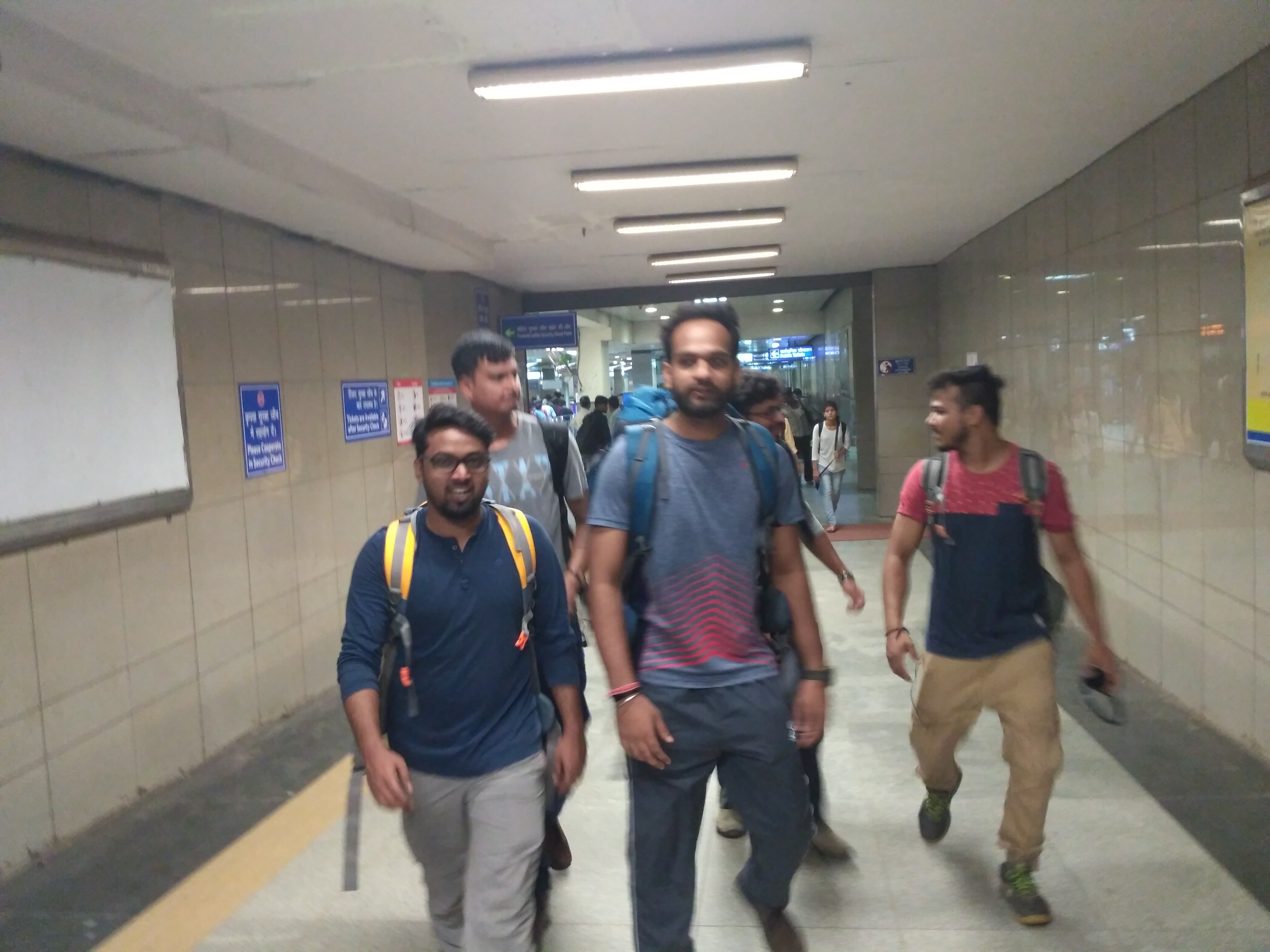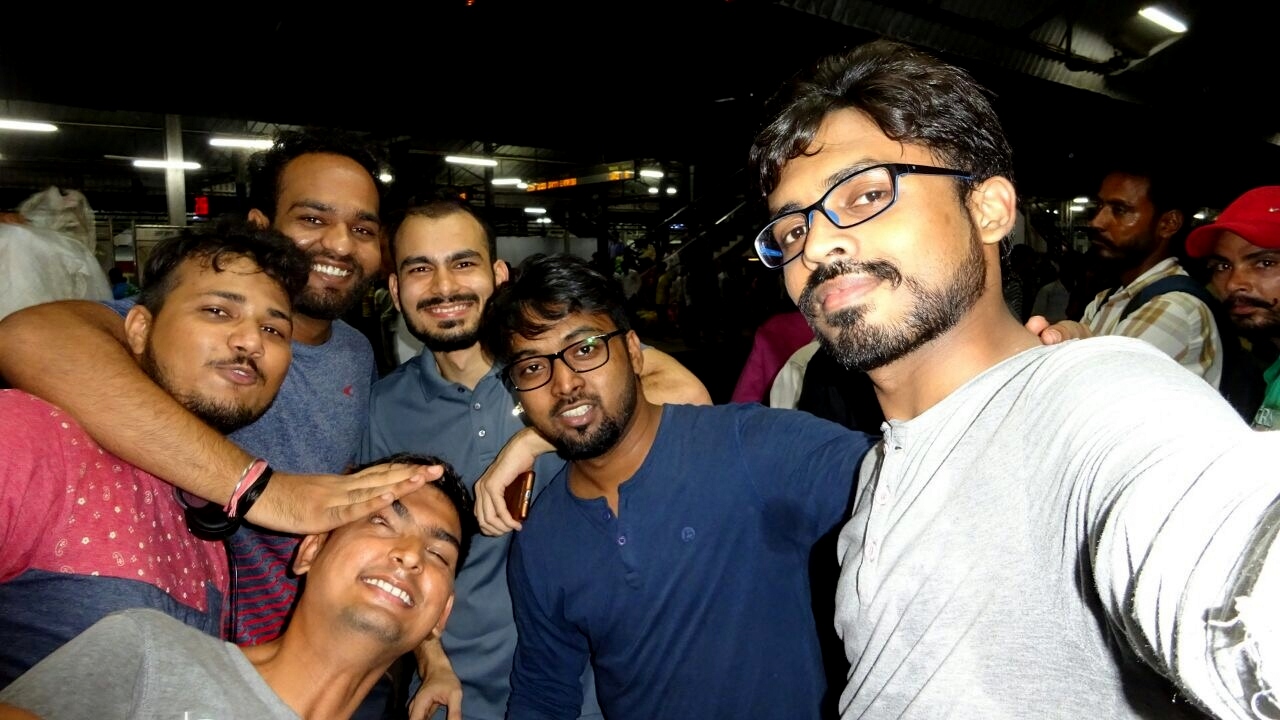 ---
[su_highlight]Information :[/su_highlight]
How to reach Kathgodam from Delhi?
Answer: Best medium via Train.
---
Roopkund Trek journey date: From 2nd July to 9th July 2017
On [su_highlight]2nd July[/su_highlight] night we catch Ranikhet express from Delhi to Kathgodam, and on 8th July night, we catch Ranikhet express from Kathgodam to Delhi.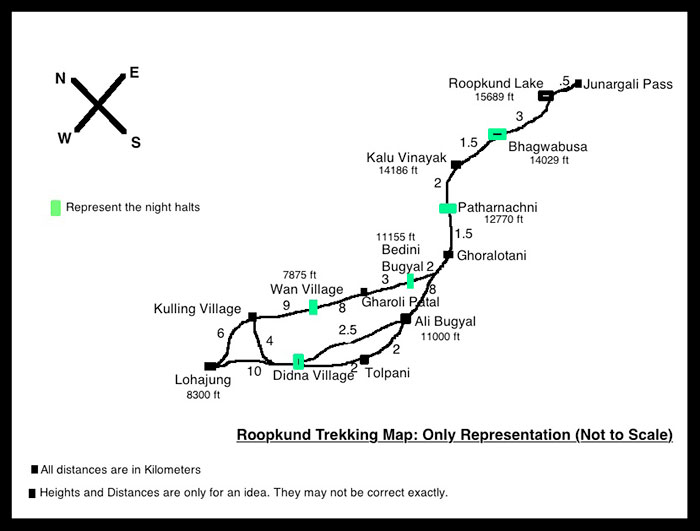 On 3rd July , in morning around 5:30 am we reached at Kathgodam railway station.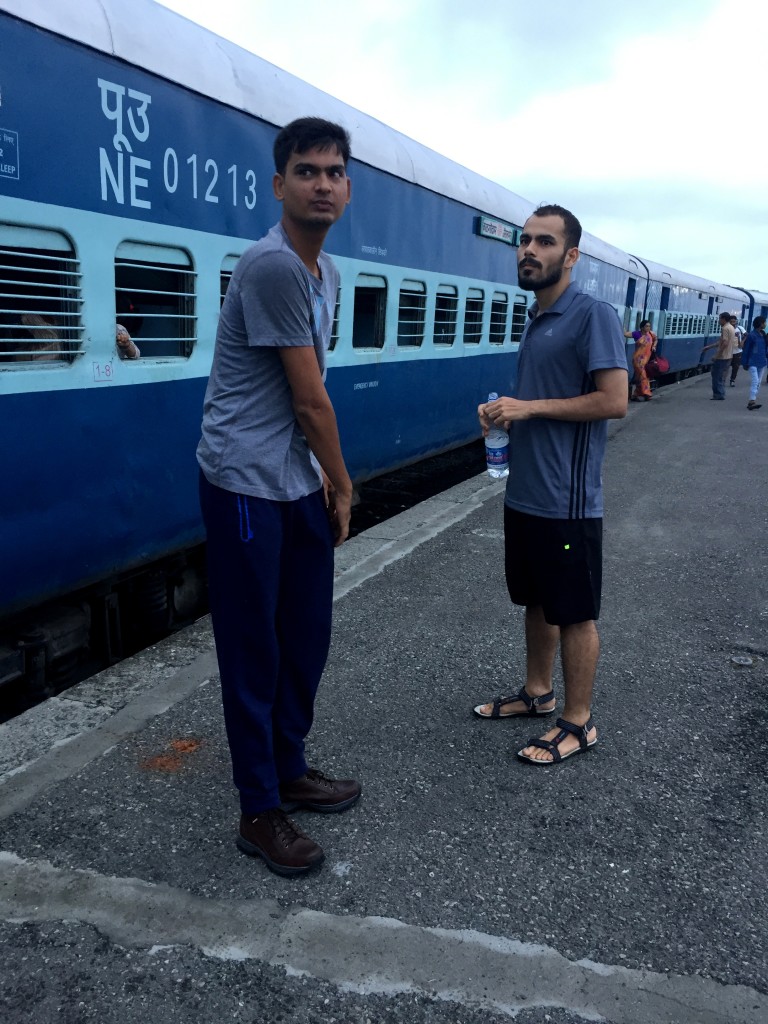 From Kathgodam railway station to Wan (place from where we are going to start our trekking for Roopkund) we already did booking for a private jeep. As I already discuss with transport company, so driver arrived early and in front of railway station, he is ready to pick us.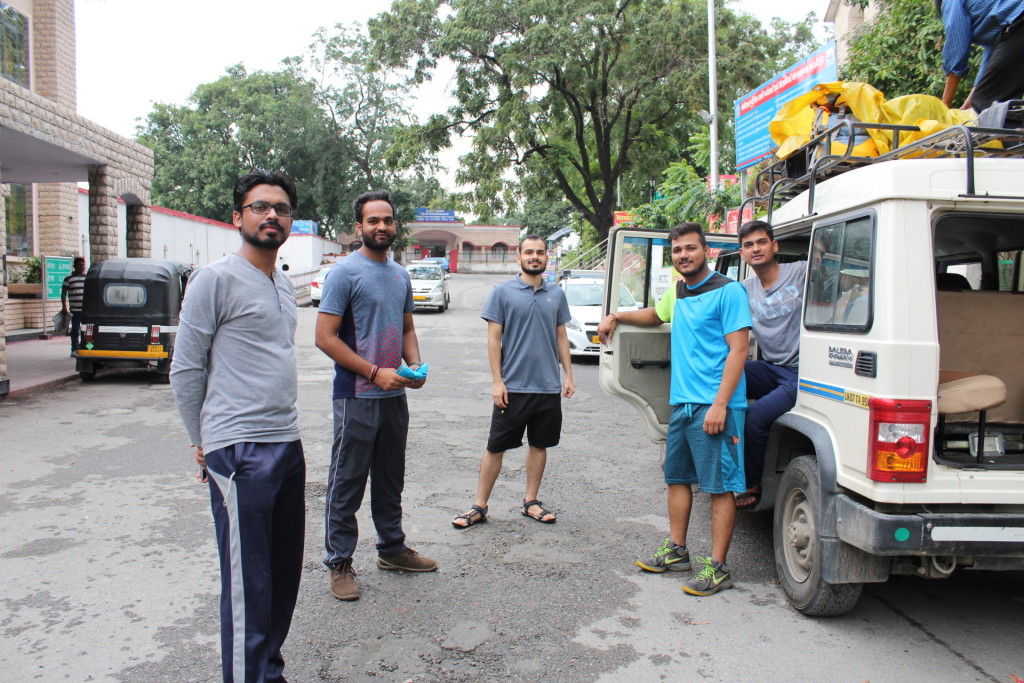 ---
[su_highlight] Information:[/su_highlight] Best Transport tour and travel company to reach Roopkund.
Believe me or not I did lot of research for transport. As this journey (from Kathgodam to Wan) going to be long around 8 to 10 hours that's why I want to book a private jeep (for 6 people). I was looking for better deal in terms of cost and I think I found that. You can also contact Mr. Raju Shah for a private vehicle to reach Roopkund.
Raju Shah run tour and travel company in Dewal (near to roopkund). His mobile number: 8979321600
Make sure to mention my name (Tarun Rawat), he will give you extra discount for sure.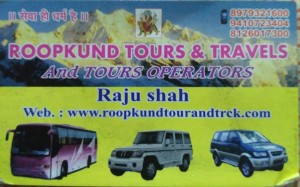 ---
From Kathgodam railway station to Wan (place from where we start our trekking) it took around 10 hours. Trip is really, I mean really torcher for us. In below image you can see my friends condition: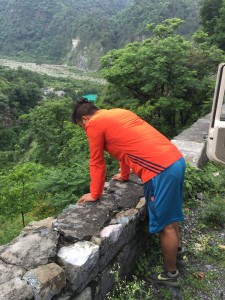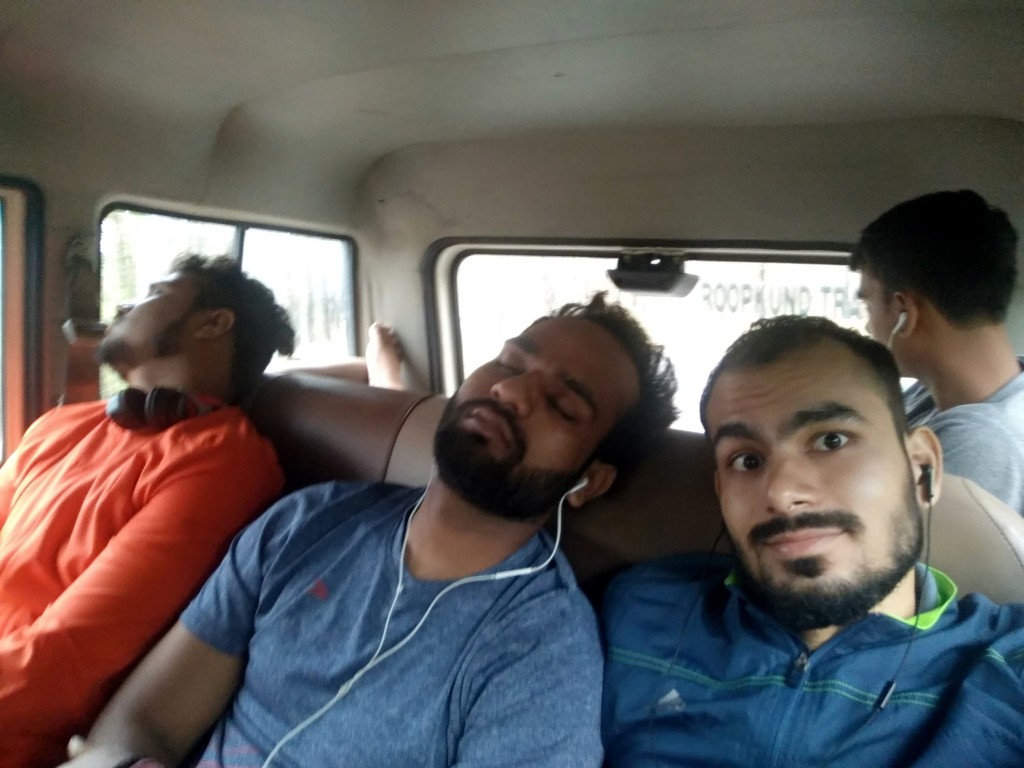 Some images while travelling: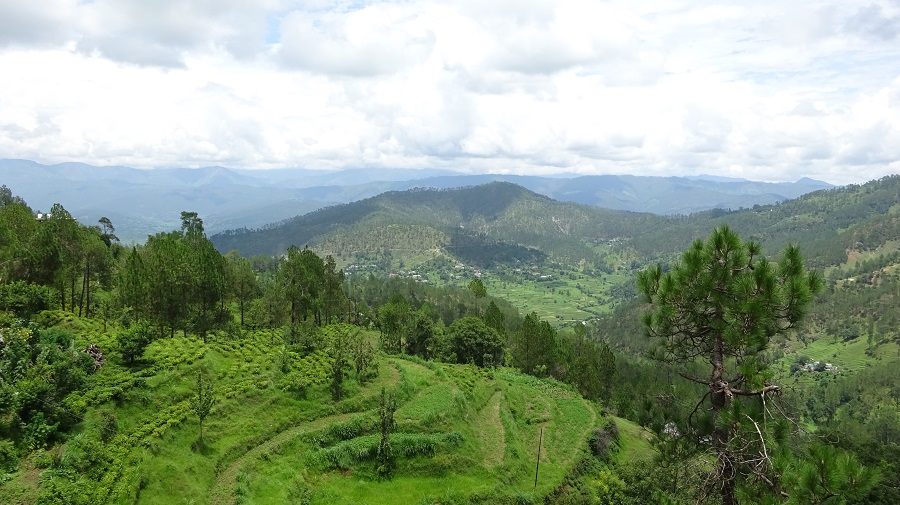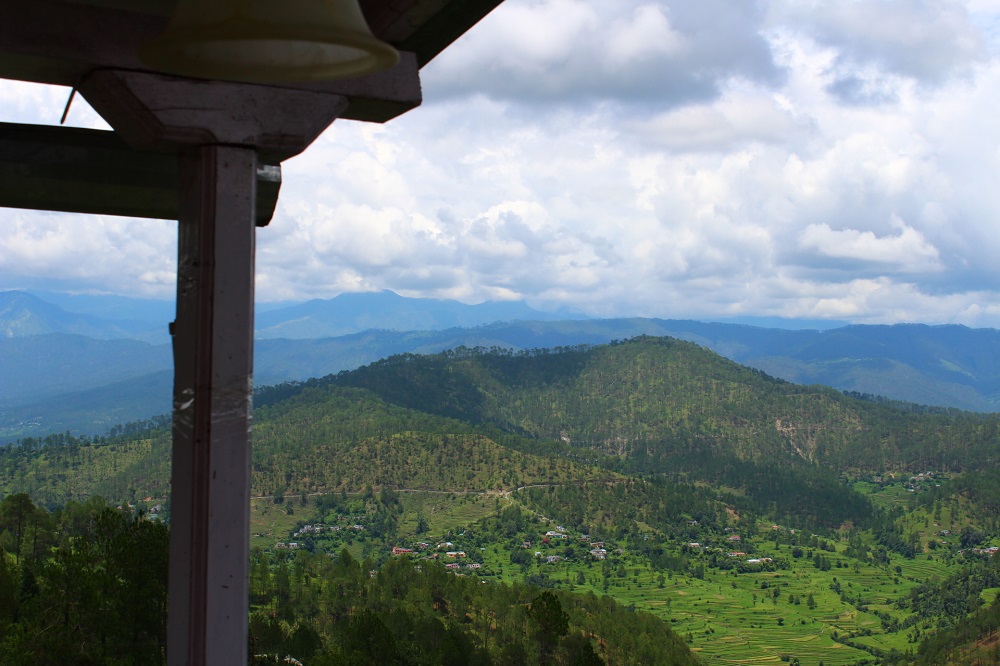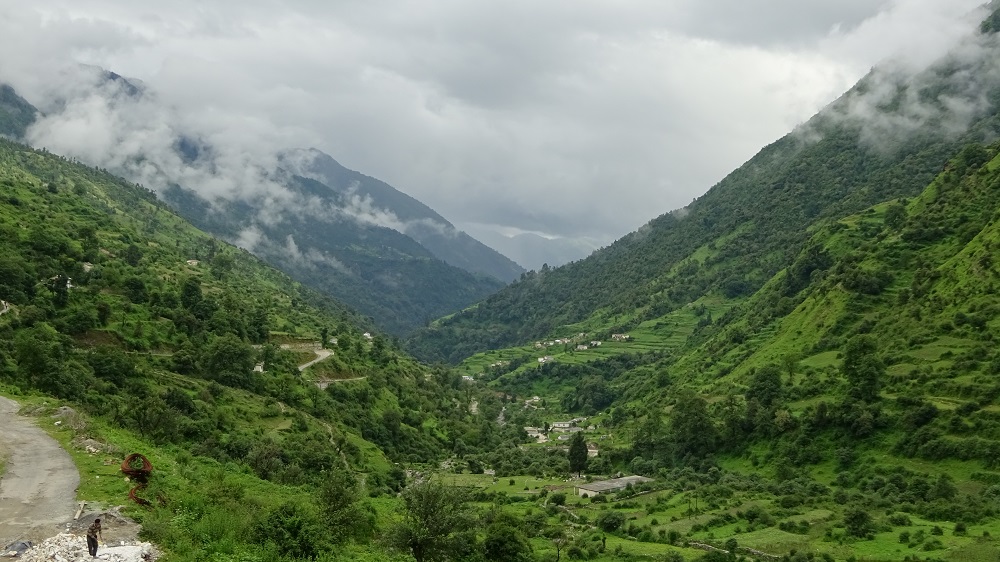 And Finally on 3rd July evening, around 6 PM we reached to Wan from kathgodam Railway station.
---
[su_highlight]Information :[/su_highlight]
How to reach Roopkund?
To reach Roopkund starting trek position (From where trail start) there are two paths. One is to reach Lohajung (which has long trail) and second is to start from Wan (just 10 km ahead from Lohajung also has short trail (good for those who want to save one day in trekking). We choose to go Wan and also I prefer you to start Roopkund trek from Wan.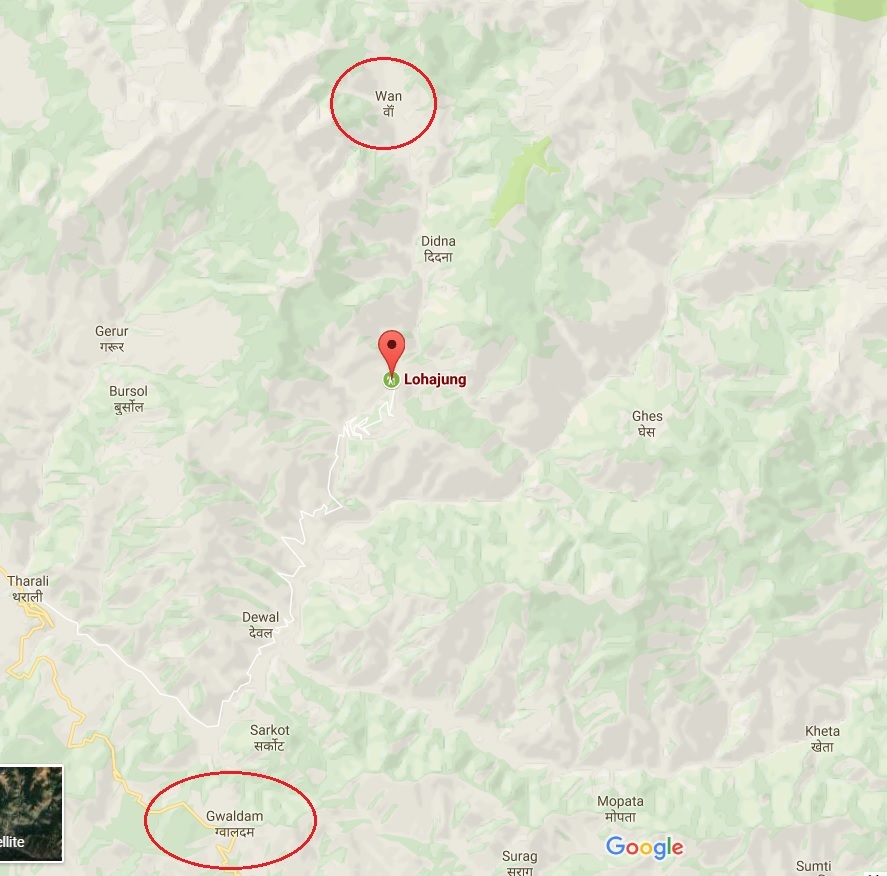 Till Gwaldam we have national highway after that, we have to travel in one lane road. Good thing is that till Lohajung road condition is good, very less chances of some land slid or rock fall.
---
We already did research and before travel, we decided place for staying in Wan.
On 3rd night we take rest at Wan GMVN (Garhwal Mandal Vikas Nigam), It is a state government service which provides various facility to tourist/trekkers.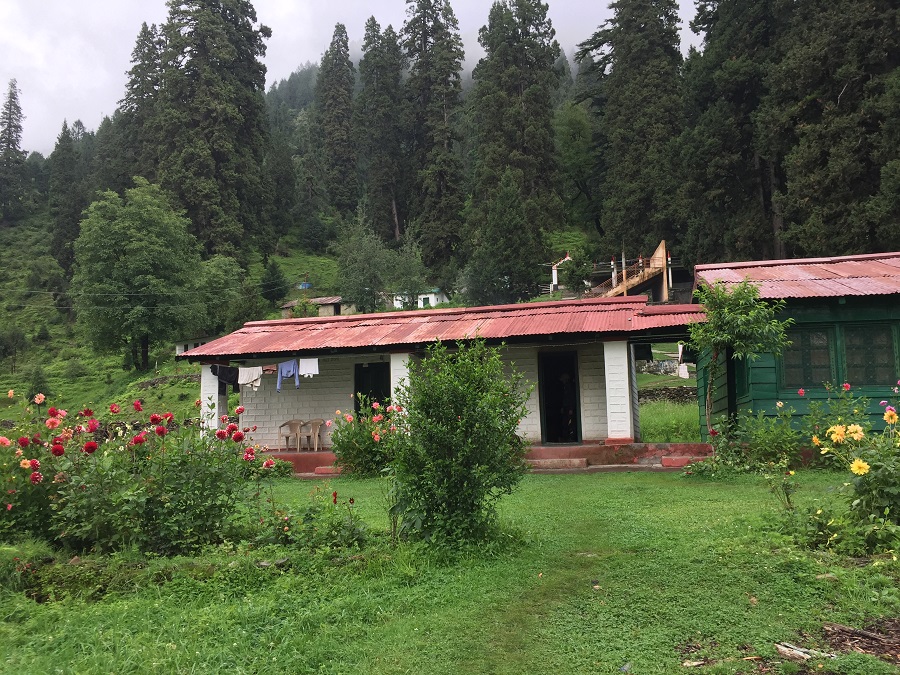 Experience at Wan GMVN was awesome, we did not face any issue. In-charge Rana uncle is nice. Facility for sleeping and eating food is great.
---
[su_highlight] Information :[/su_highlight]
If you want to contact Rana unclue (in-charge of Wan GMVN), you can contact him by this mobile number: +91 9690087742 (make sure to mention my name Tarun Rawat).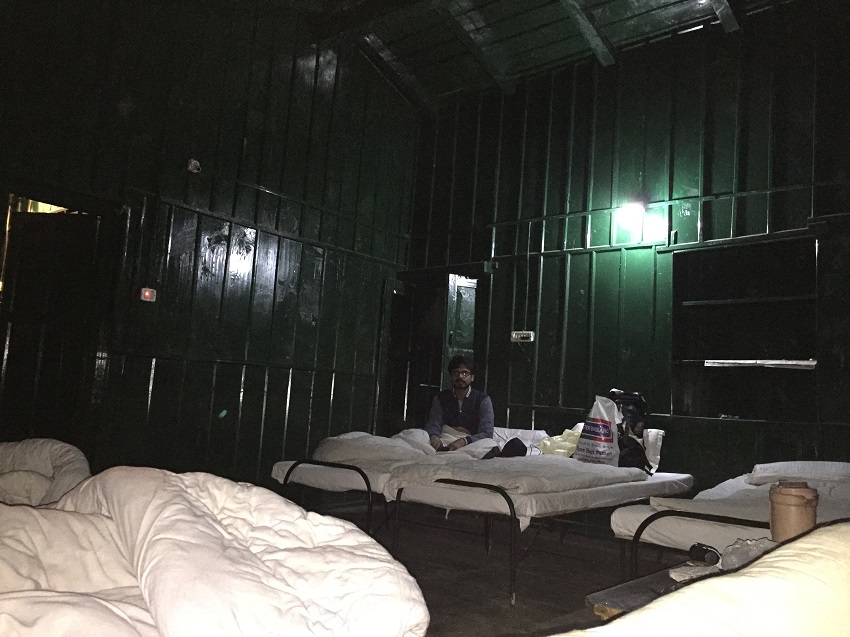 ---
During evening, we spend time by walking and exploring local area.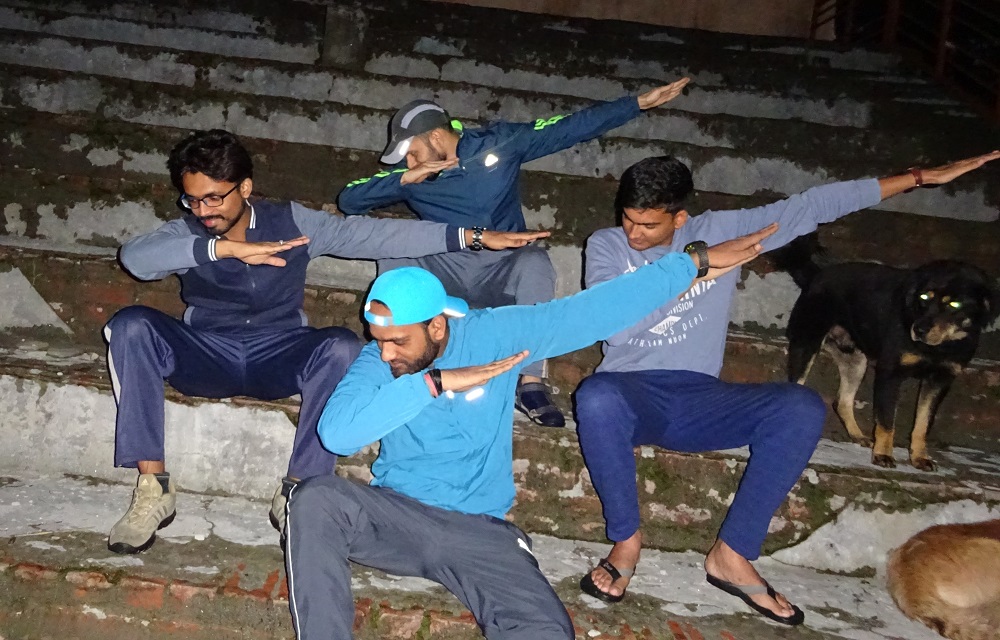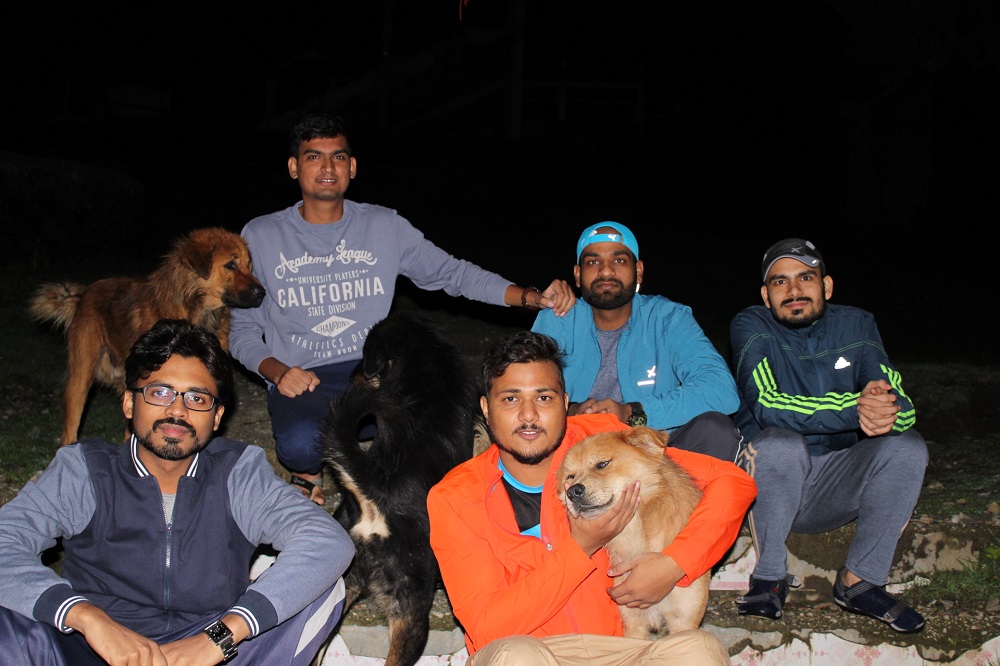 OK, now it is [su_highlight]4th July Morning[/su_highlight].
Which means it is the day for which we all waiting from last two months.
It is Trekking Day !!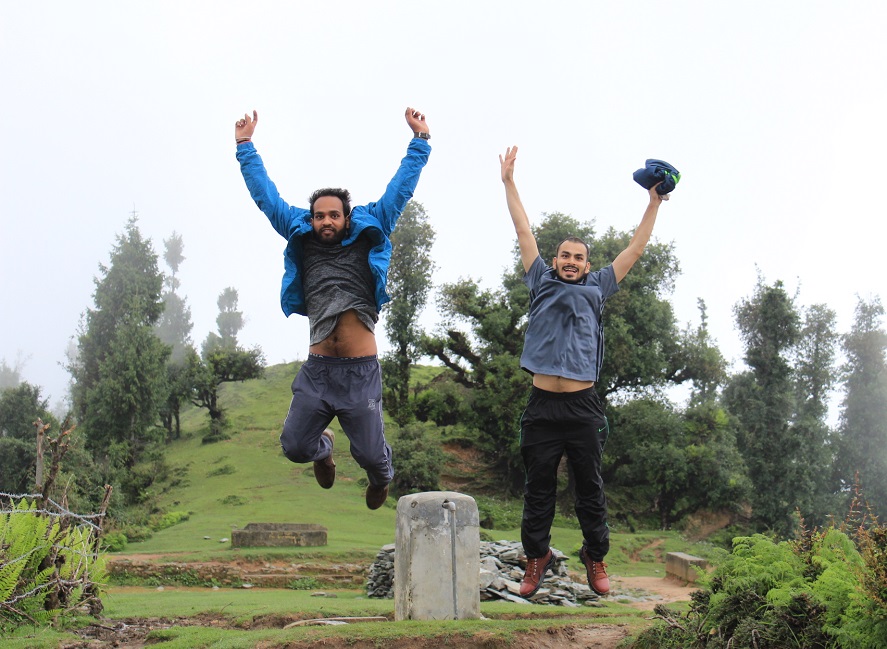 For trekking, we hire a local guy his name is Krishna. During trip planning, we discuss everything with him, so he (guide) manage everything very well. I will recommend him as a guide if you are planning to go for Roopkund.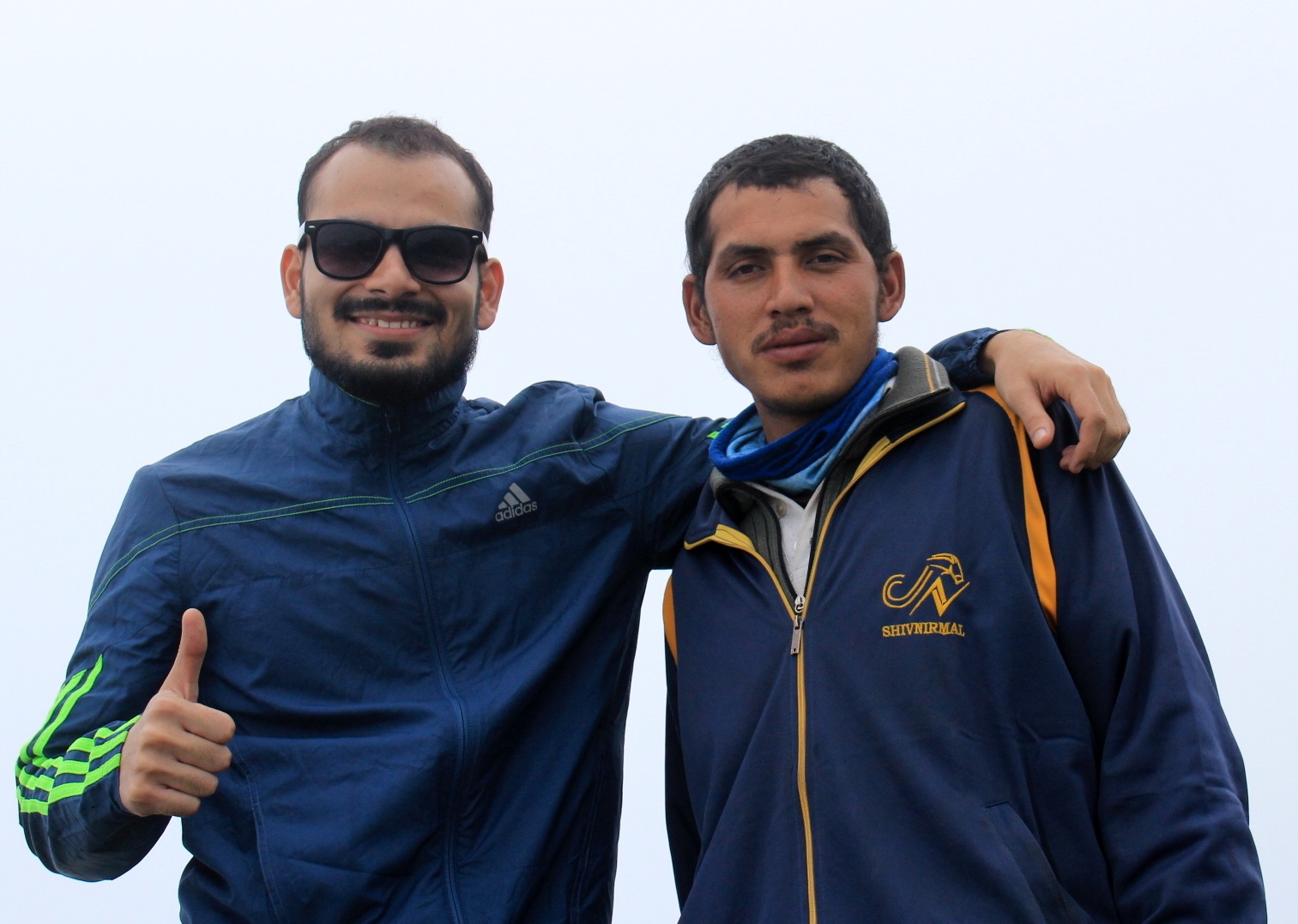 ---
[su_highlight] Information :[/su_highlight]
If you are looking a local guide for roopkund trekking then contact Krishna bahiya: +91 8477894643 (mention my name he will give you discount 😉 )
---
He (our guide) manage rented sleeping tent and sleeping set for us. To carry that extra equipment, our guide also manage a mule for us (renting mule is very good decision I also recommend)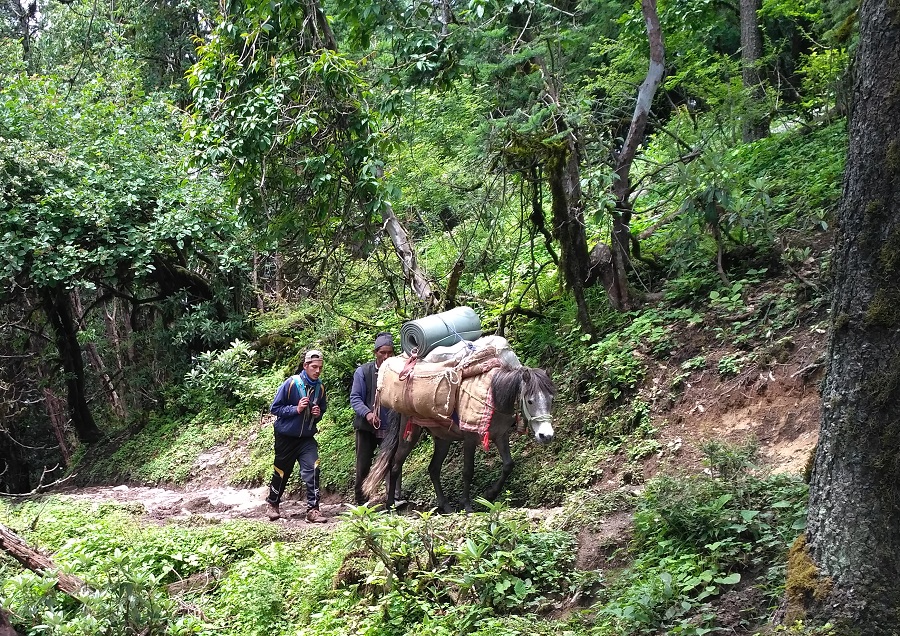 ---
[su_highlight] Information :[/su_highlight]
To trek in Roopkund, trekker has to give forest charge. In below image, you can see invoice.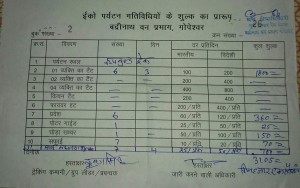 ---
So now we have one goal, just to walk and walk.
For 4th July we plan to reach Bedini Bugyal from Wan. Trail was near 12 km long, and we started in morning at 9 AM and reached Bedni bugyal around 4 PM (on same day)
Images captured on 4th July:
Talking about 4th July July trek difficulty, I will say it is not an easy one. After Neelganga river, trek is steep (you hardly get flat surface to walk). You can check my friend's condition 😉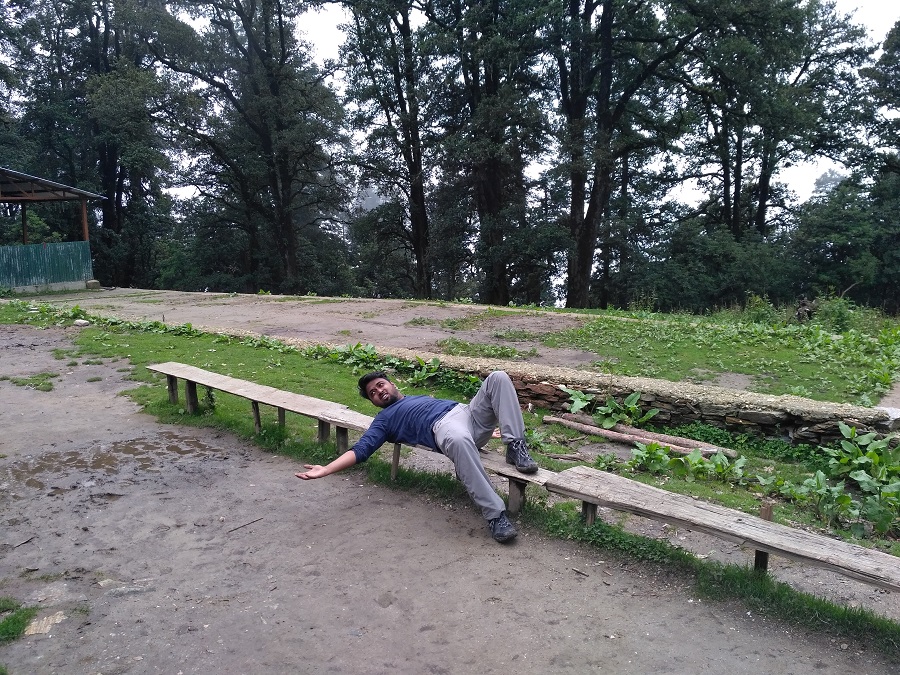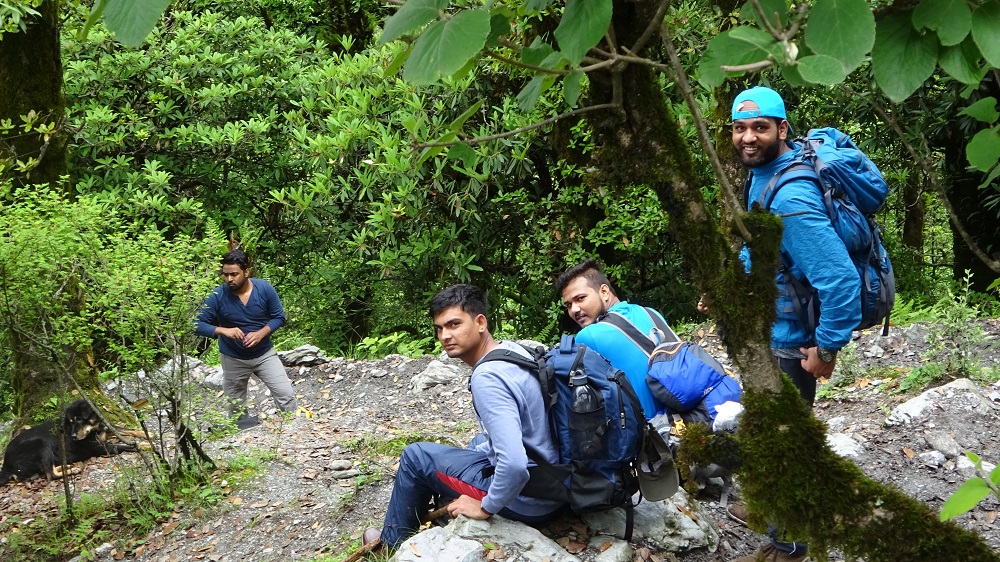 Oh, I forgot to tell you about weather condition, as this was July month so we expected rain and cloud but fortunately, there was no rain on 4th July but yes there are clouds everywhere.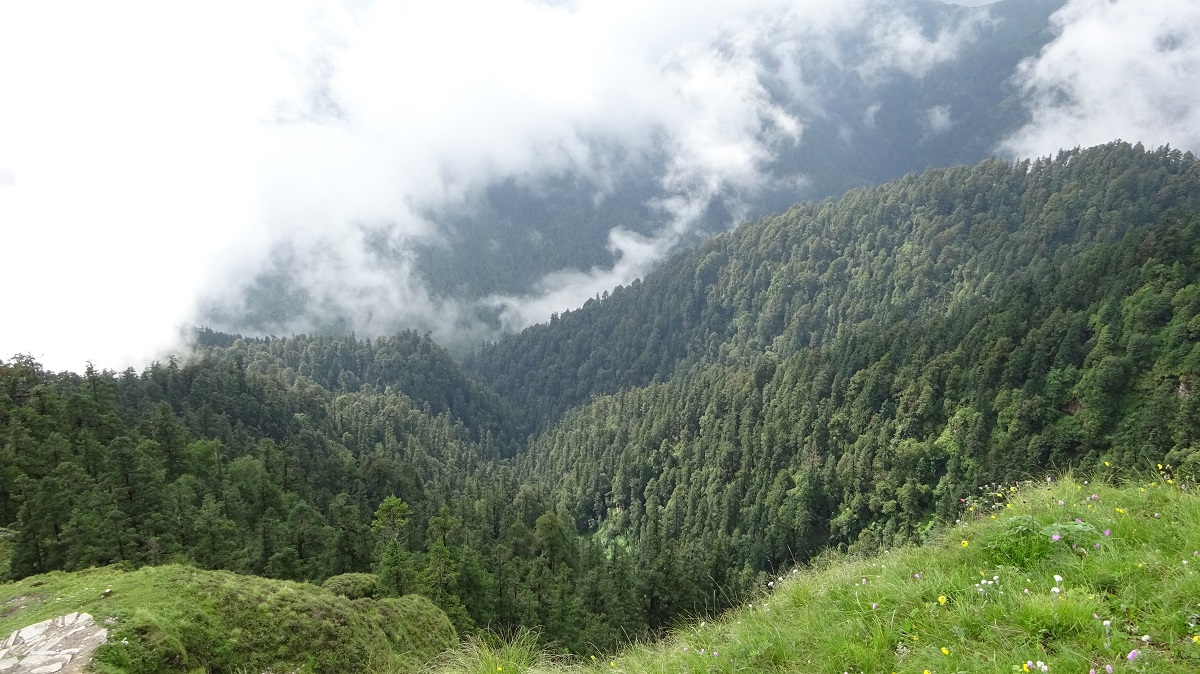 So, yes we finally made to Bedini bugyal campsite in late afternoon.
Our sleeping tents are pitched and now it is time to relax and enjoy the beauty around us.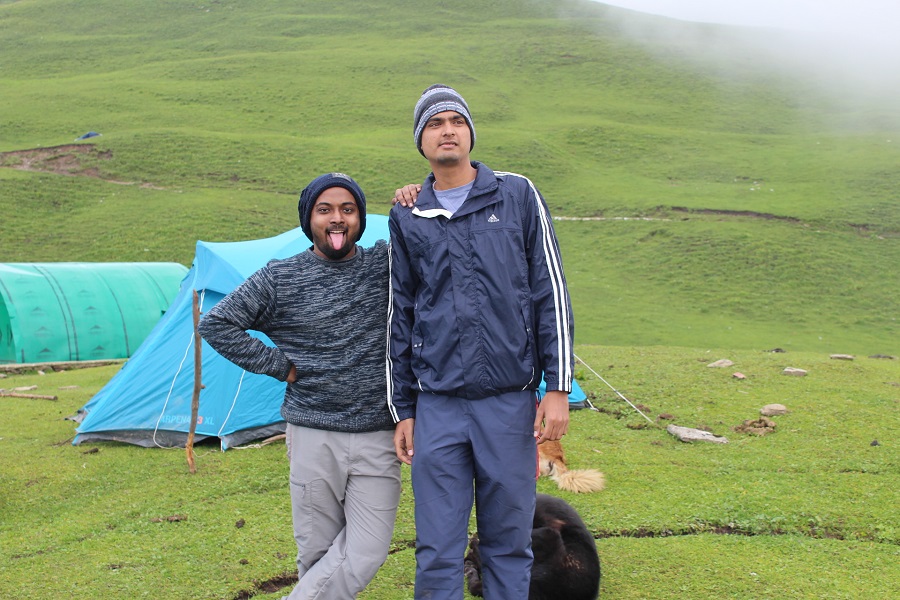 At Bedini bugyal local people created dome green shed (for business), where they make food for trekkers and luckily with our guide arrangement one dome shed was open.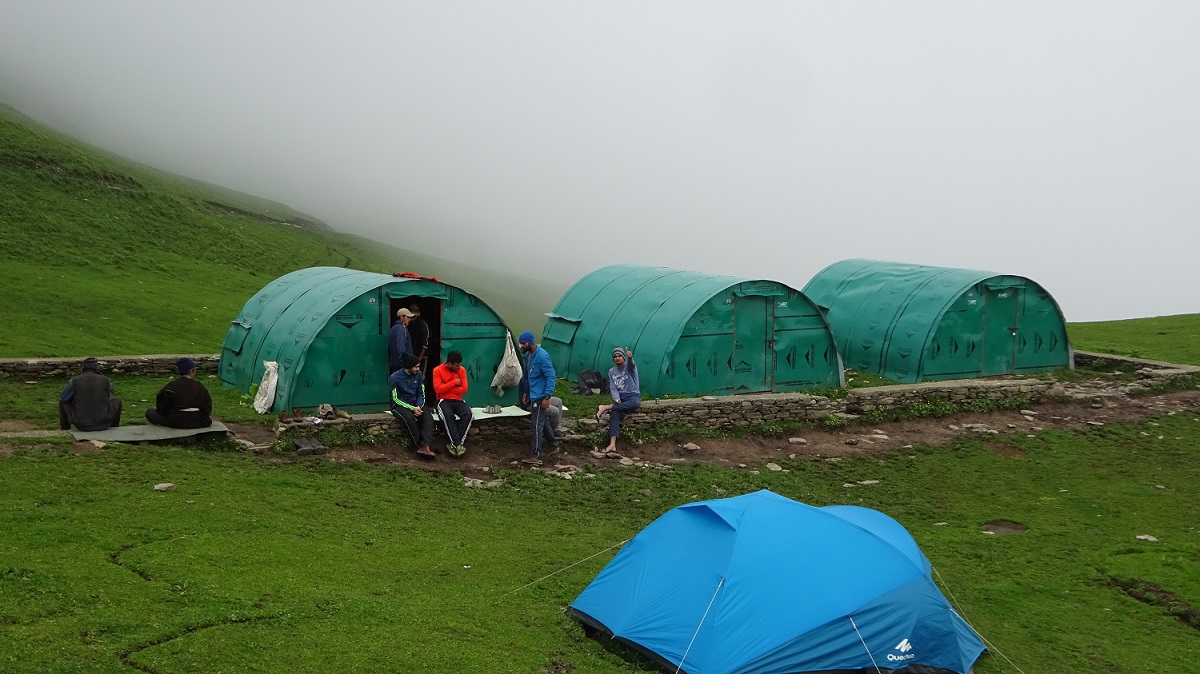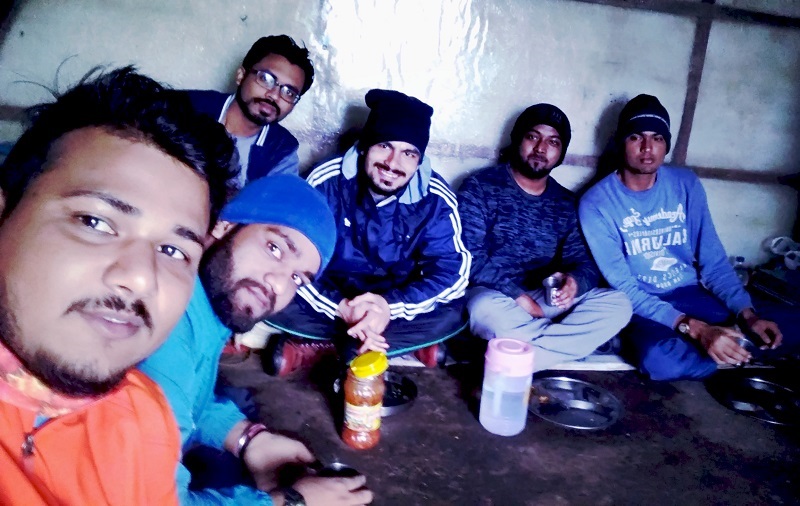 So after dinner, we planned for a good early sleep as we are exhausted with today's trek and also need energy for tomorrow's trek.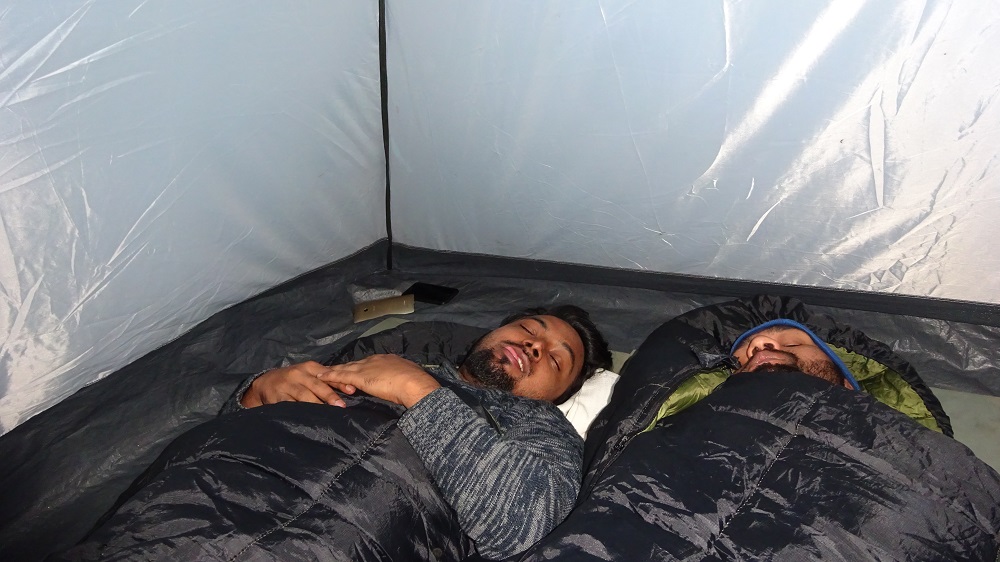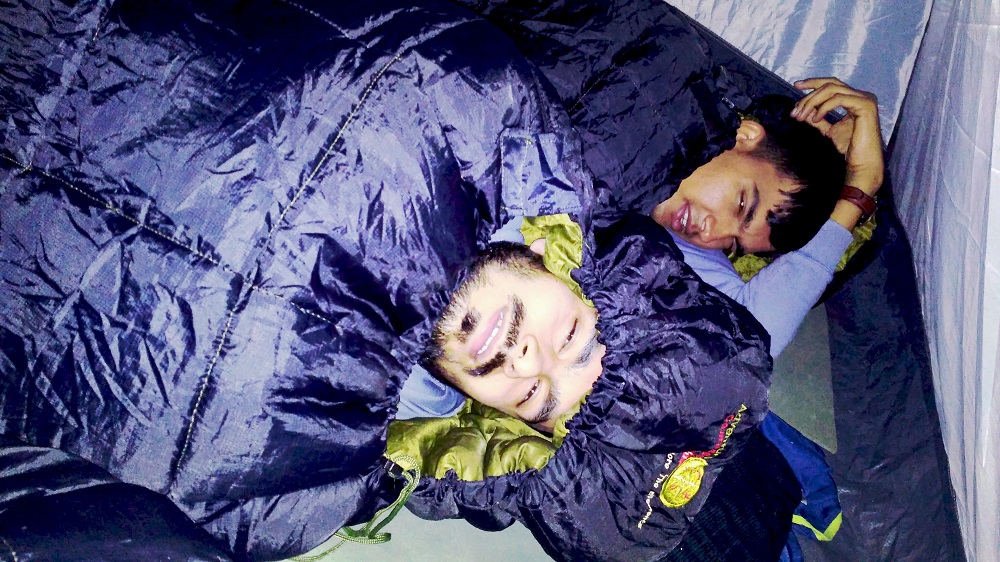 But who knows that nature decided something special for us and wanted to make trek more exciting.
It started to rain !!
Till now we did not encounter rain but on 4th July night, around 11 PM it started to rain. And the crazy thing which happened was, during night when we all three friend (in one tent three people sleep and other three friends sleeping in different tent) was sleeping we heard a noise that someone from backside of tent try to come inside.
It was totally scary, in open forest environment someone trying to come inside from back side of tent.
And then,
we heard another same noise from front side of our tent.
when I open our tent zip slightly.
I saw that,
two local dogs (who trekking with us from Wan village) are sleeping inside our tent (inside of our outer tent layer).
As it was raining outside, that is the reason they came inside. As there was no shelter (totally open area) we allow those dogs to sleep inside in our outer tent (not inner tent ;P). #dog_love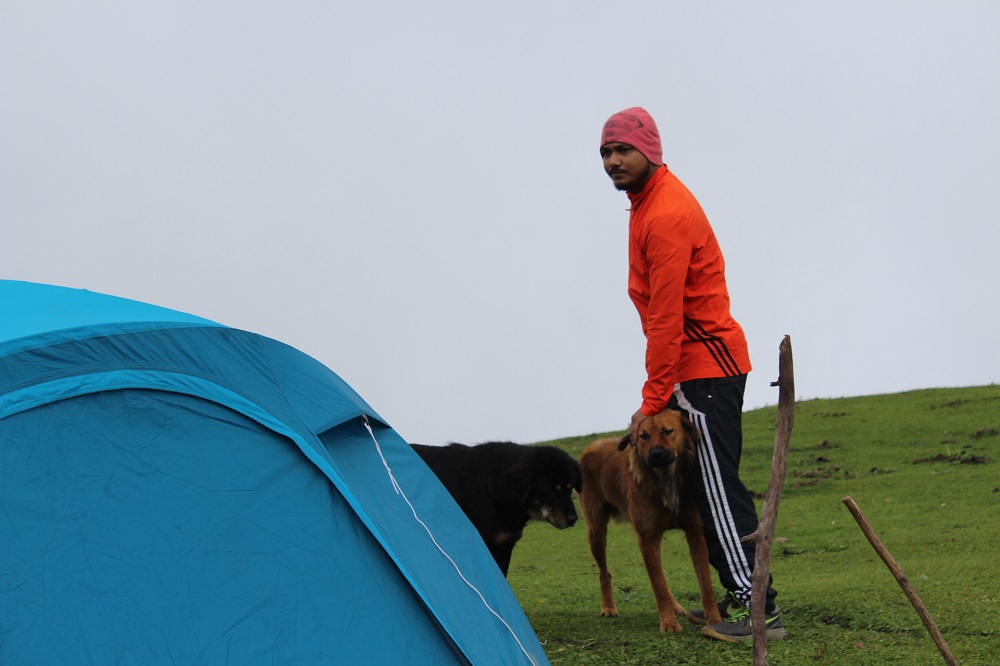 So, after that little drama night. We woke up with RAIN….
It was monsoon kind rain, which not want to stop, so we accepted that and prepared ourself for that.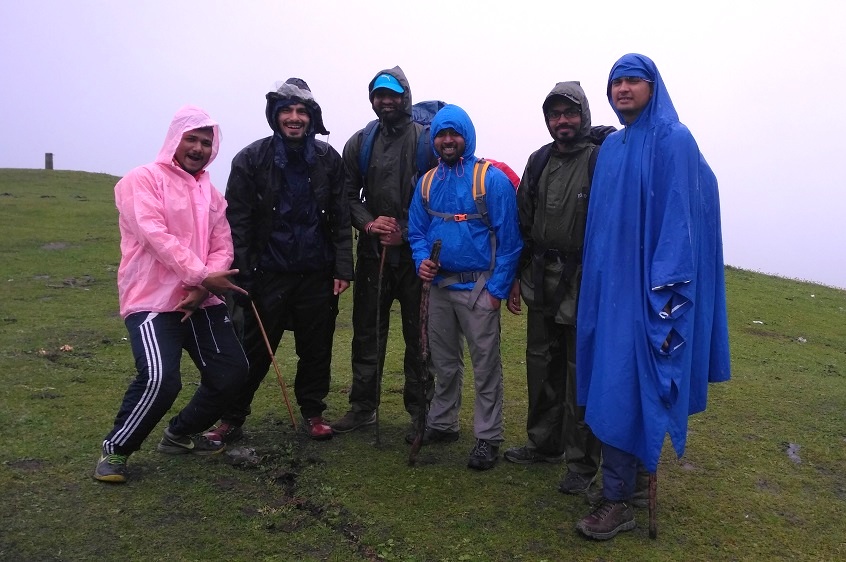 So ya, it was[su_highlight] 5th July[/su_highlight] and our goal was to reach Pathar nachuni from Bedni bugyal. Trail length is near 6 km, and it was raining (light shower).
Some images during 5th July trekking:
So now we were at Pathar nachuni.
Generally, trekkers go from Bedni Bugyal to Bhagwabhasa (which is after Pathar nachuni) but because our guide suggested we planned to stay at Pathar nachuni campsite.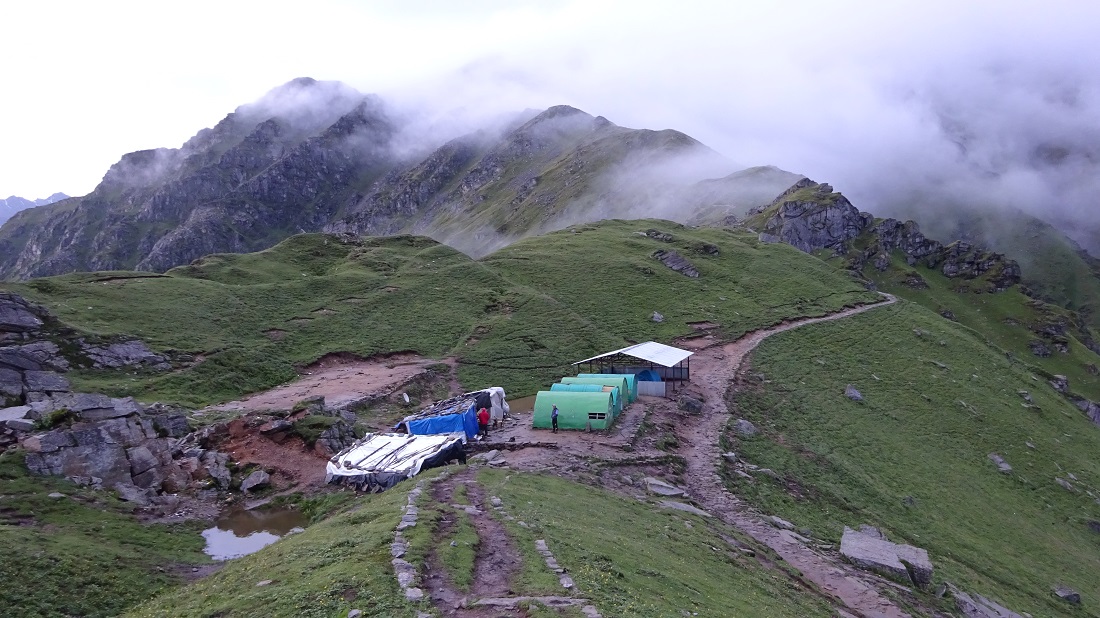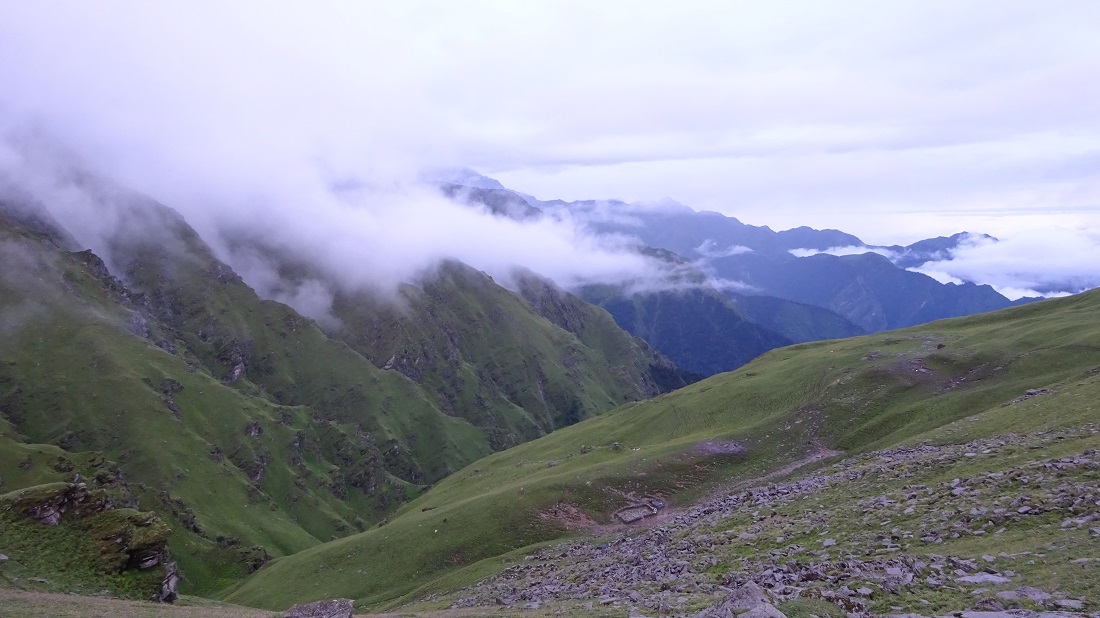 Hopefully, there is one small dhaba which was open during that time. That dhaba owner provided us good food for the 5th July night.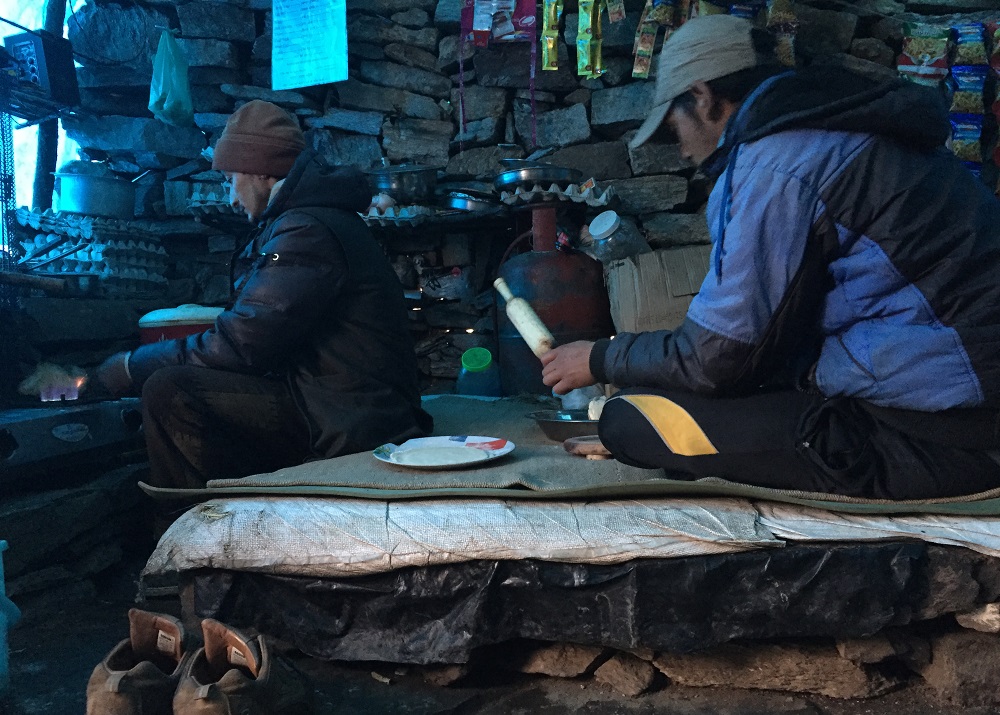 6th July was the Roopkund summit day for us.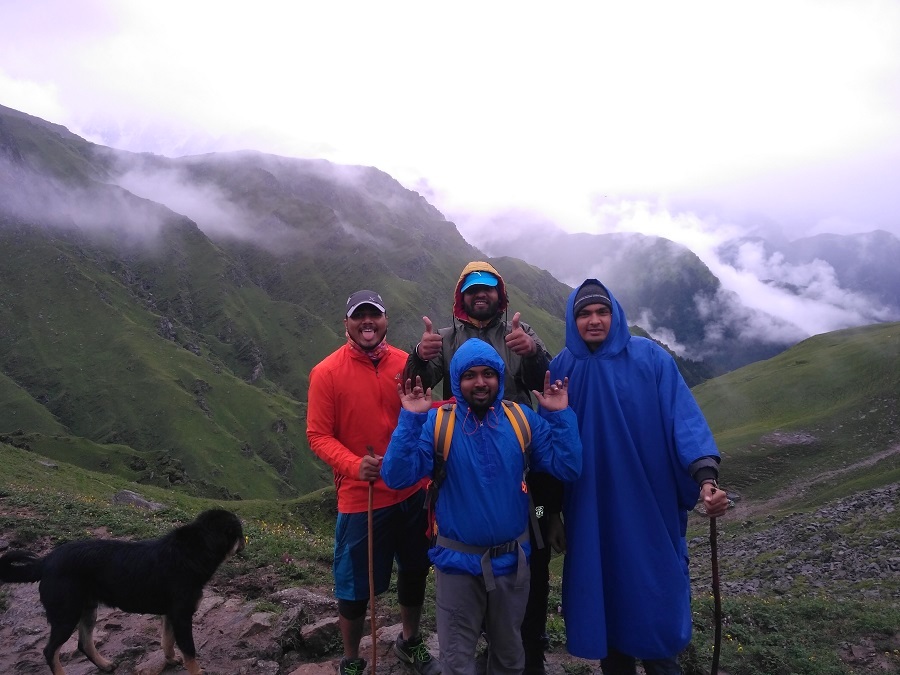 The most challenging trek day for us !!
We all are exhausted, facing little headache (because of low oxygen), and the most challenging thing was to tackle non-stop rain shower.
On [su_highlight]6th July [/su_highlight]we woke up early because on that day we have to go Roopkund and then have to come back (around 16 Km trekking). Nature is also ready, making trek more exciting and challenging by rain.
So ya around 8 AM in morning we started our trek towards Rookund. In Pathat nachuni campsite we left our bags (just carrying important items like water bottle and snacks).
Below image is enough to describe our condition.
It was wet, rain and cold !!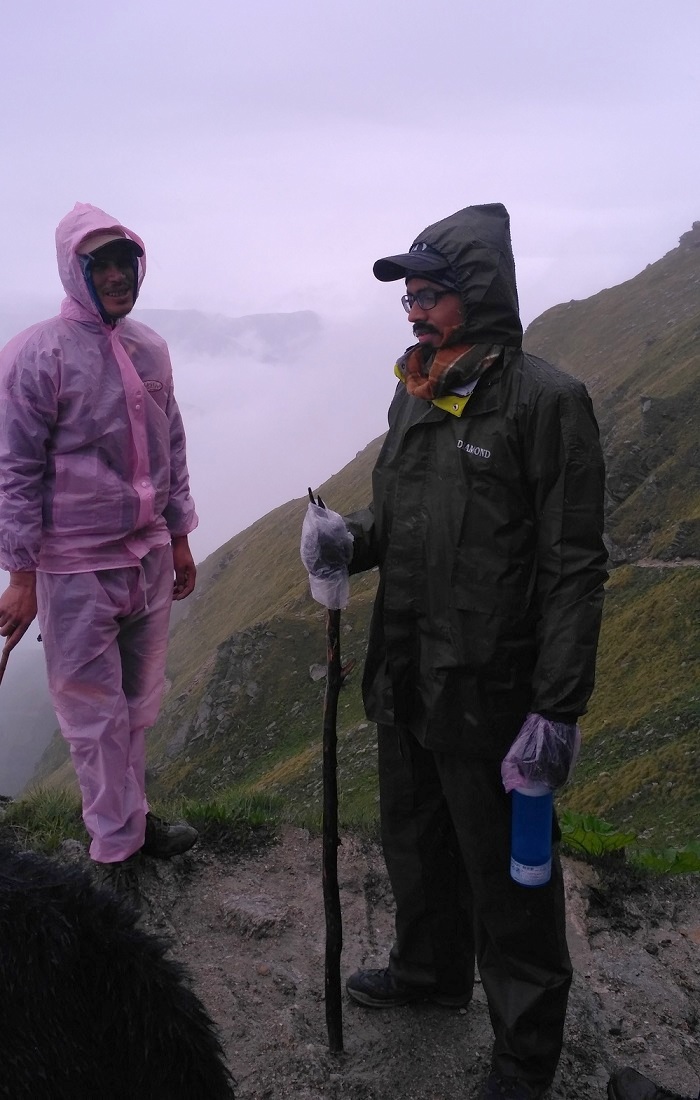 So we all are on the way towards Roopkund. Plan is to get as early as possible because in mountains during afternoon weather get worst.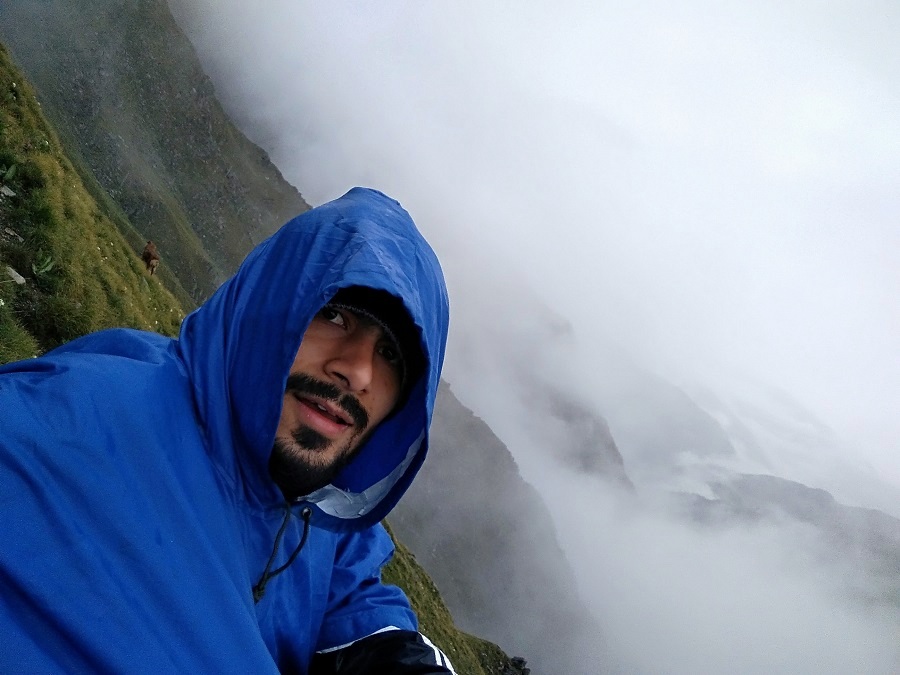 From Pathat nachuni to Kalu Vinayak trek is steep (around 5 KM). We really struggle to reach Kalu Vinayak. But at the end, we made it in three hours.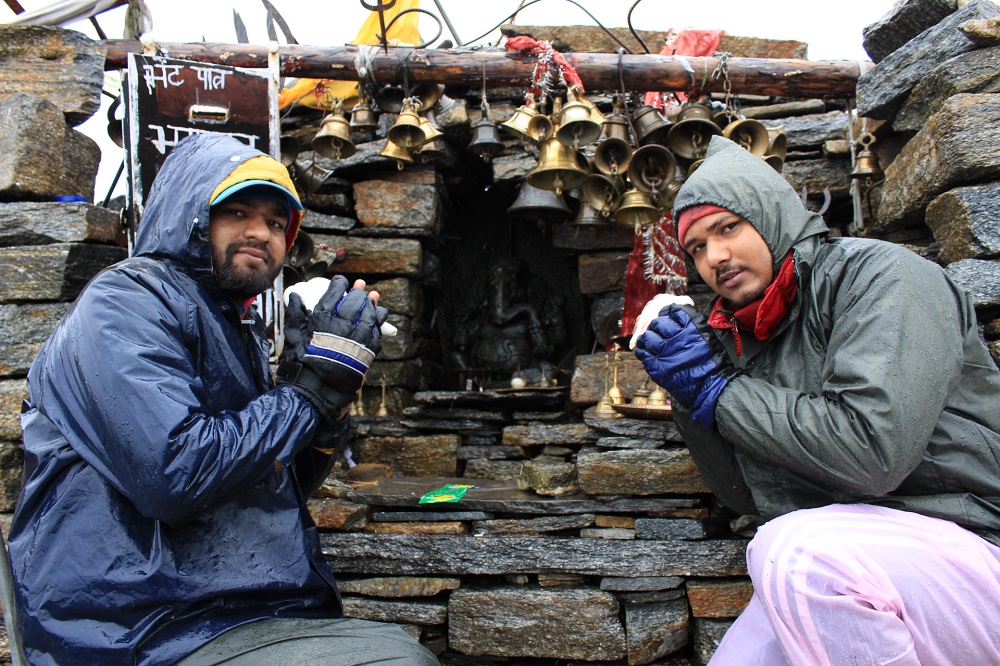 There was some relief for us when we saw remaining trail from Kalu Vinayak to Bhagwabhasa. Trail was flat till Bhagwabhasa (yeeee).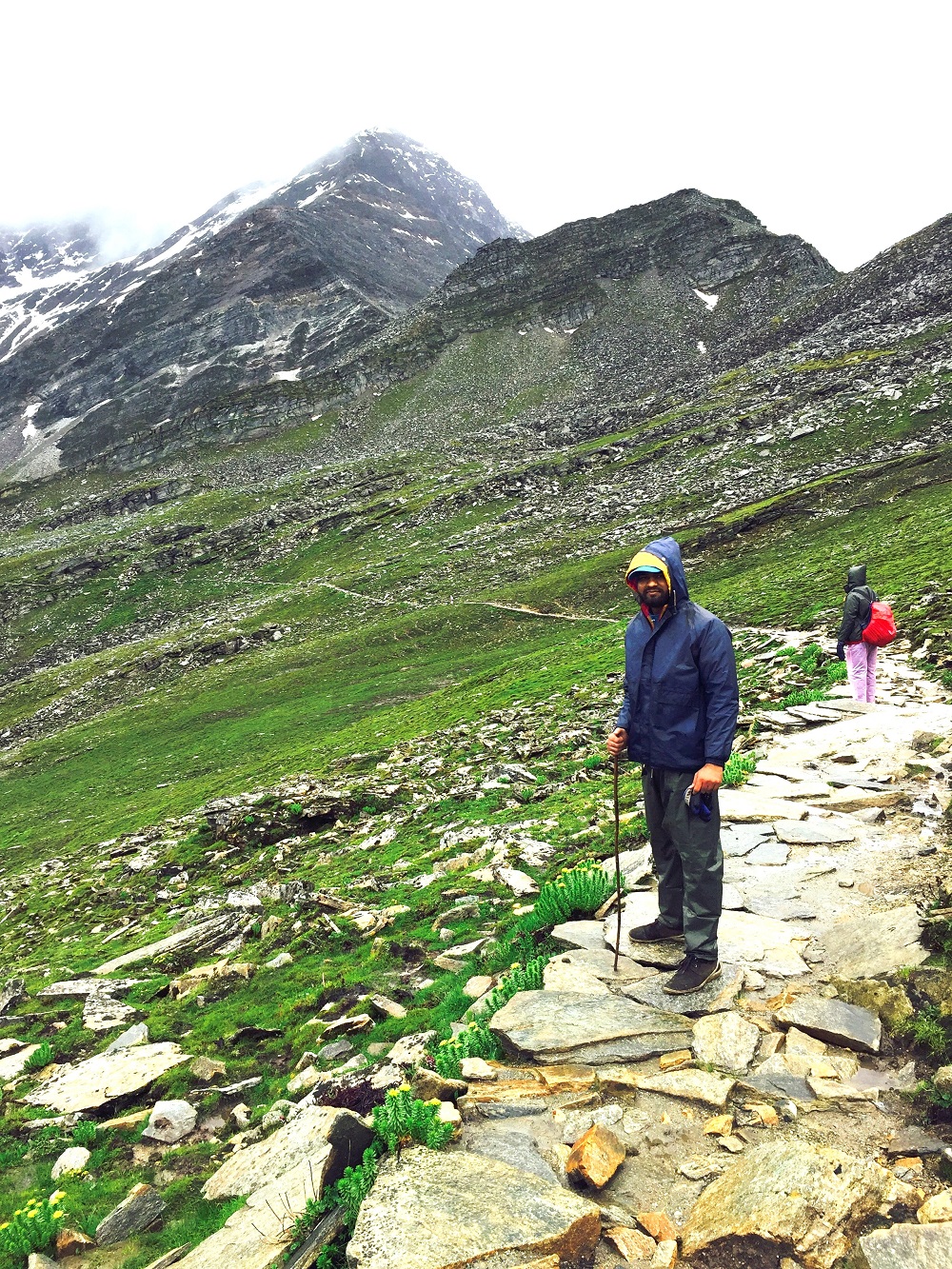 But (there is always a but 😉 ) Roopkund has planned something else for us (mystery will continue).
So yes, finally we reached to our last stop, which is Bhagwabhasa. We took 15 minutes rest in some green shed (created by local people) and ate some snacks.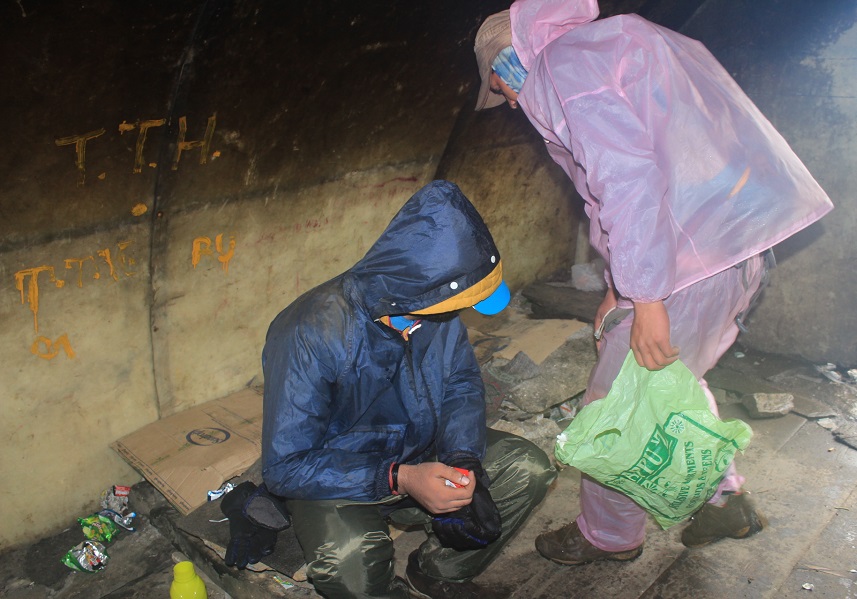 And now from Bhagwabhasa, we have to trek just 3Km to reach Roopkund.
3 Km sound easy and small number but remember I said earlier "Roopkund has planned something else for us".
The final summit stretch is here and as expected it should be hard. AND IT IS !!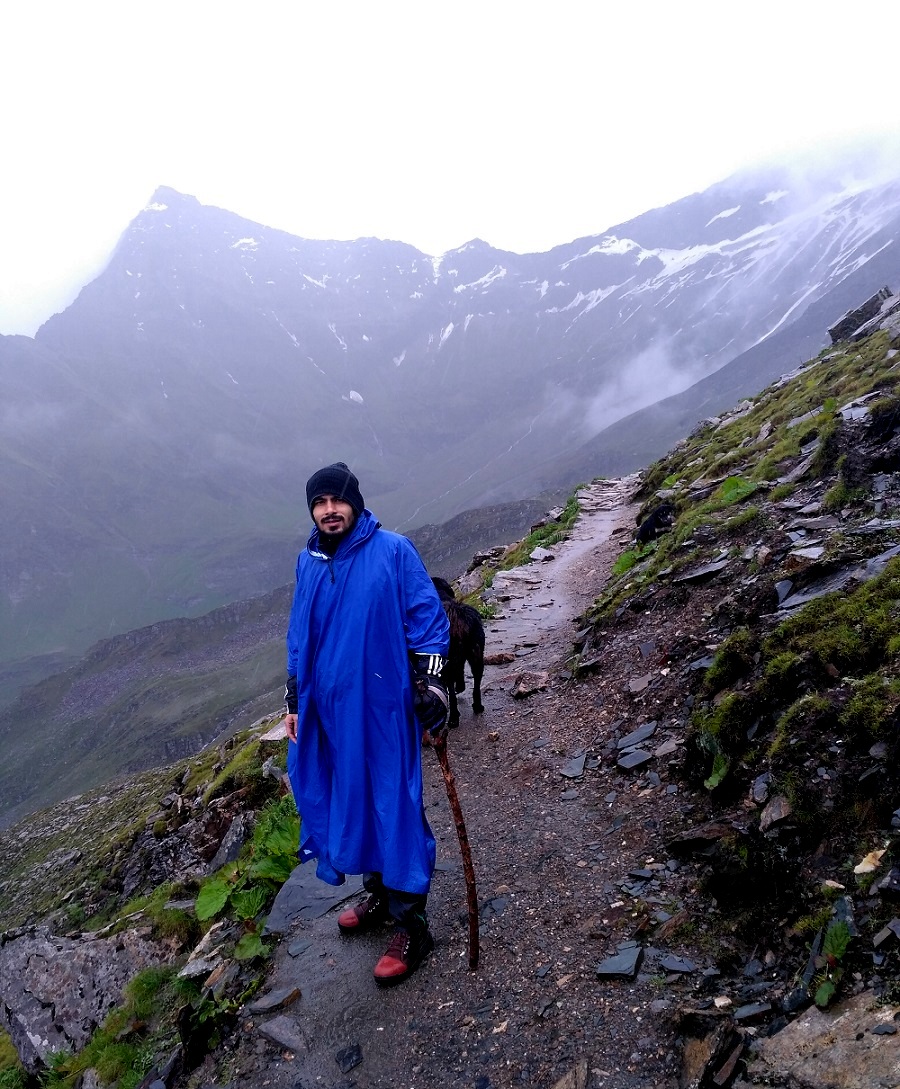 Our condition that time: we all are completely wet (our rain coat not able to stop rain) also that freezing cold making situation more worst. As our body was wet so we feeling extreme cold. Not just this, the unstoppable rain making trail more challenging as trail becoming more slippery because of mud and melting snow.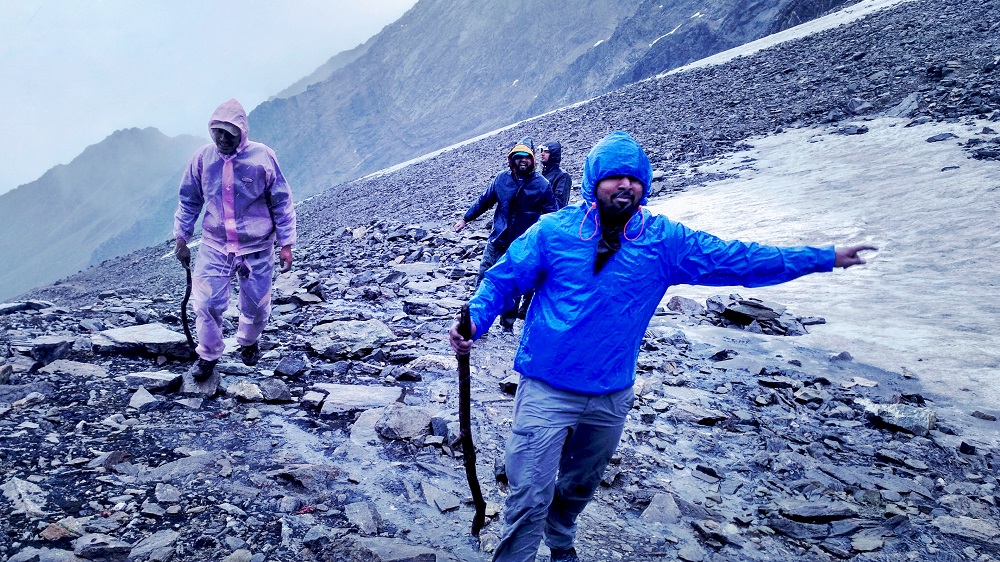 It was really hard the last one km is like "do or give up" kinda thing. In fact, the last half km not has proper trail, we just have to walk by making our own path.
And finally,
We all made it to Roopkund !!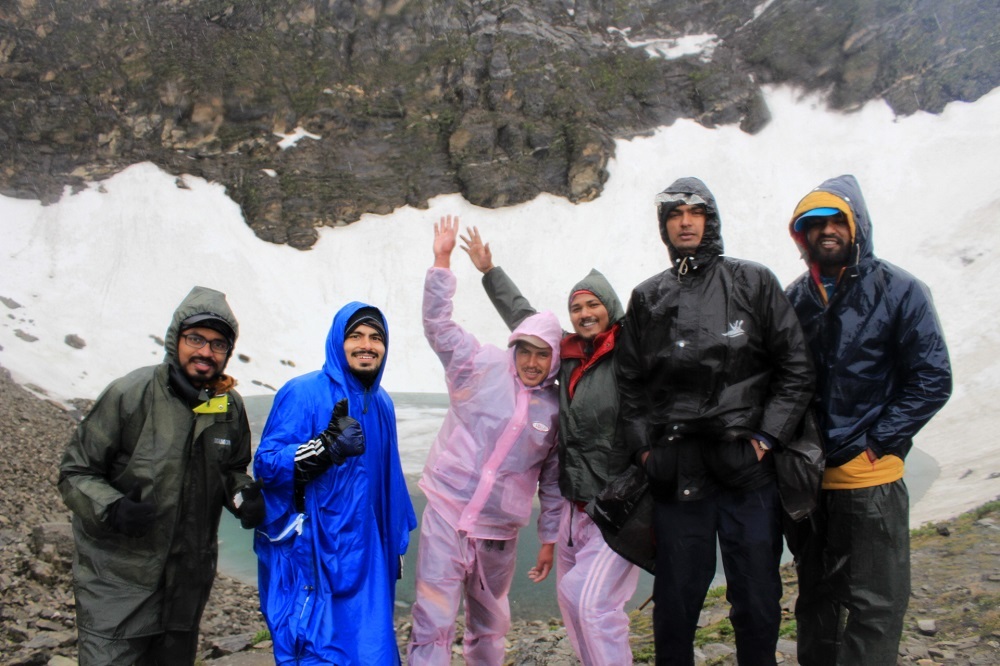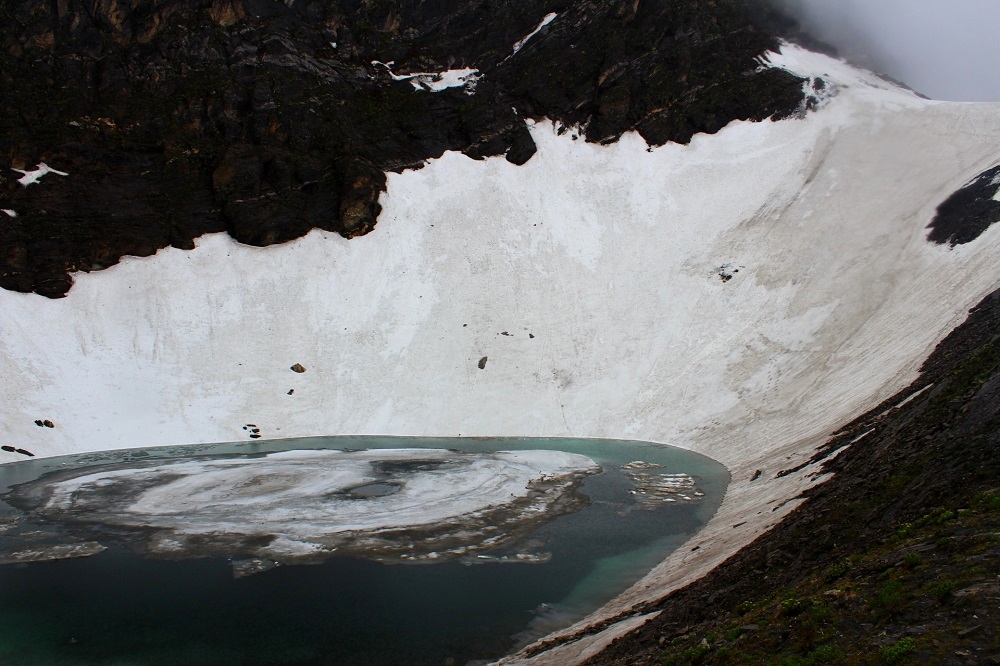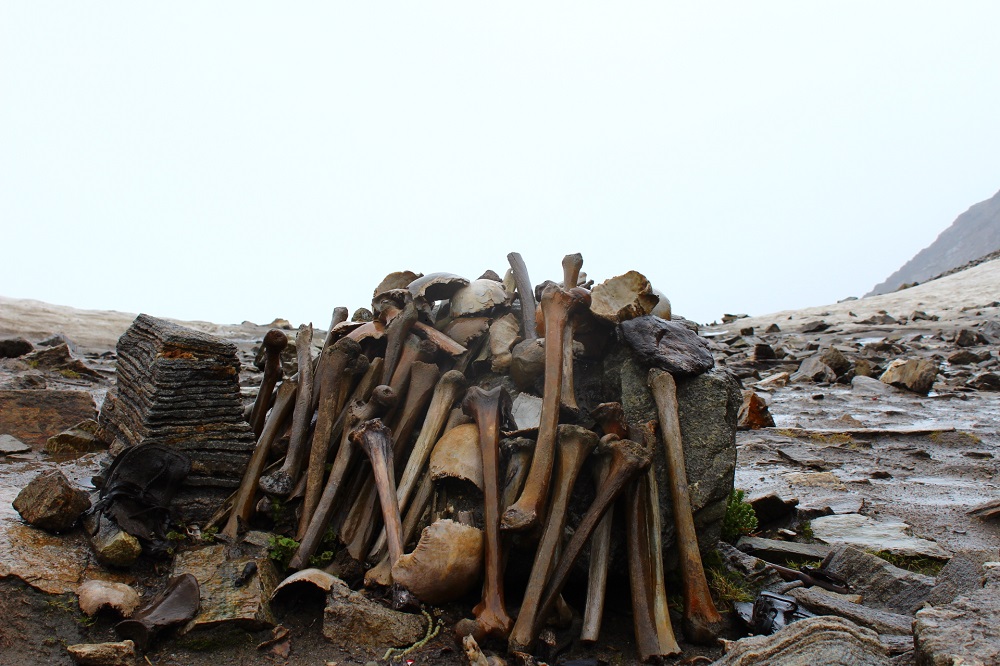 So after spending some 15 minutes at Roopkund, we decided to rush downward as there is very high chance that weather becomes more worst (which can cause stone fall from top of mountain). Also, we are facing freezing cold at top so it was better decision to make our body in move so that body heat gets maintain.
I am not exactly sure but it was near 1 PM when we reached at top (Roopkund).
And now we have one goal, which is to rush towards Pathar nachuni. As we have to go down, so trail is now easy, this time gravity helping us.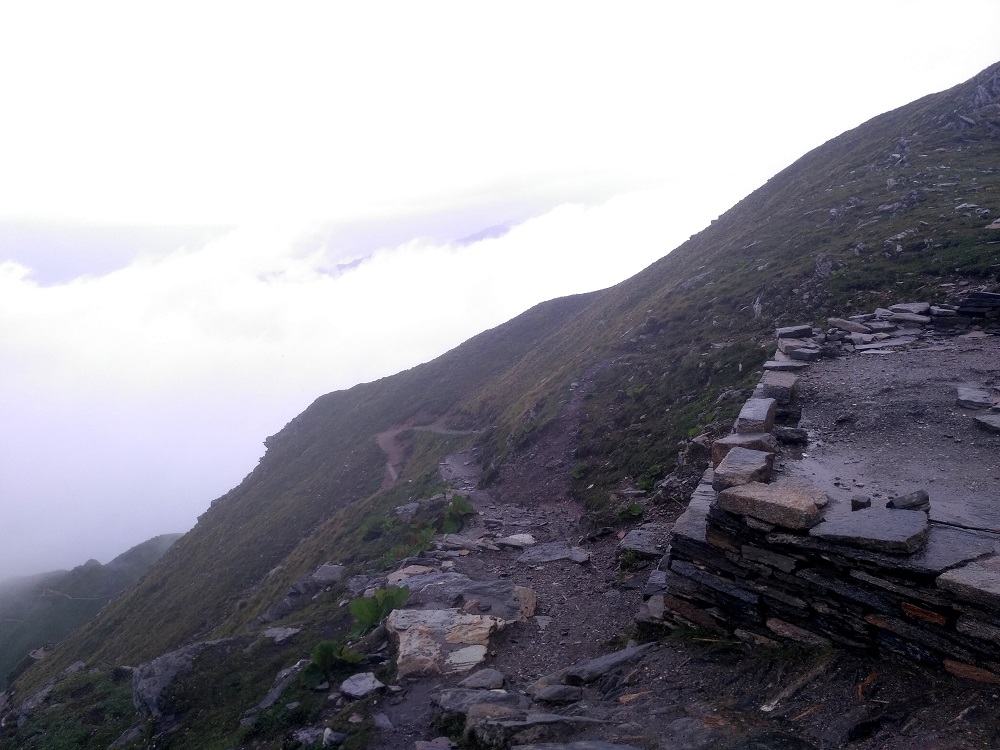 I am not sure about others (my friends), but I personally want to reach at campsite as fast as possible because of those damn wet clothes.
Around 3 PM (6th July) we reach back to our campsite in Pathar nachuni.
And the first thing which we did…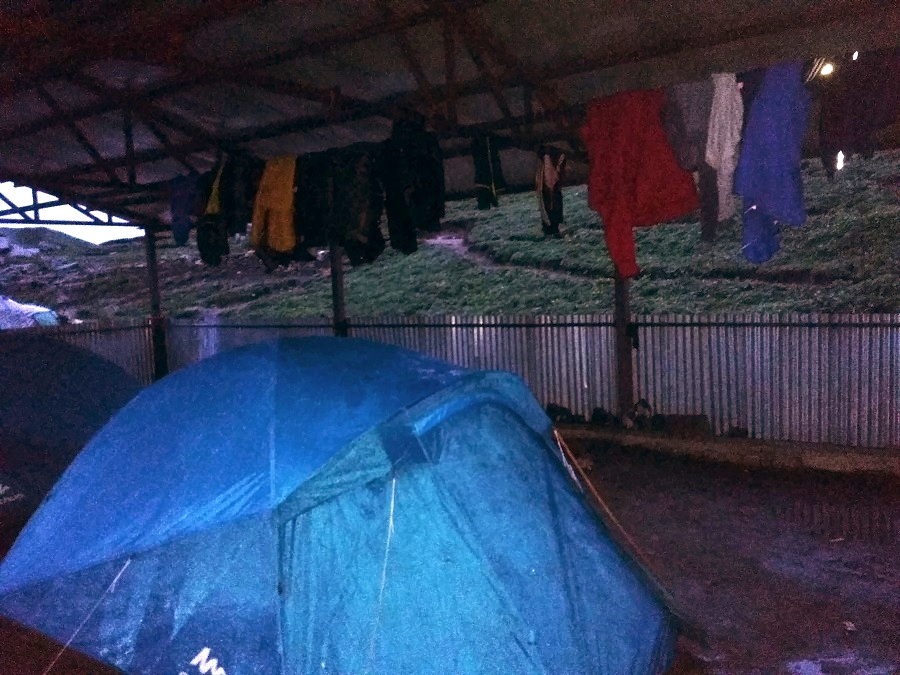 So yes we all manage to reach Roopkund, It was challenging, but we all did it was piece of cake ;P
Now, it is time to pack up
7th June we plan to reach back to wan from Pathar nachuni. As we going down so trail becomes easy. We started at 9 AM in morning and reach to wan around 4 PM.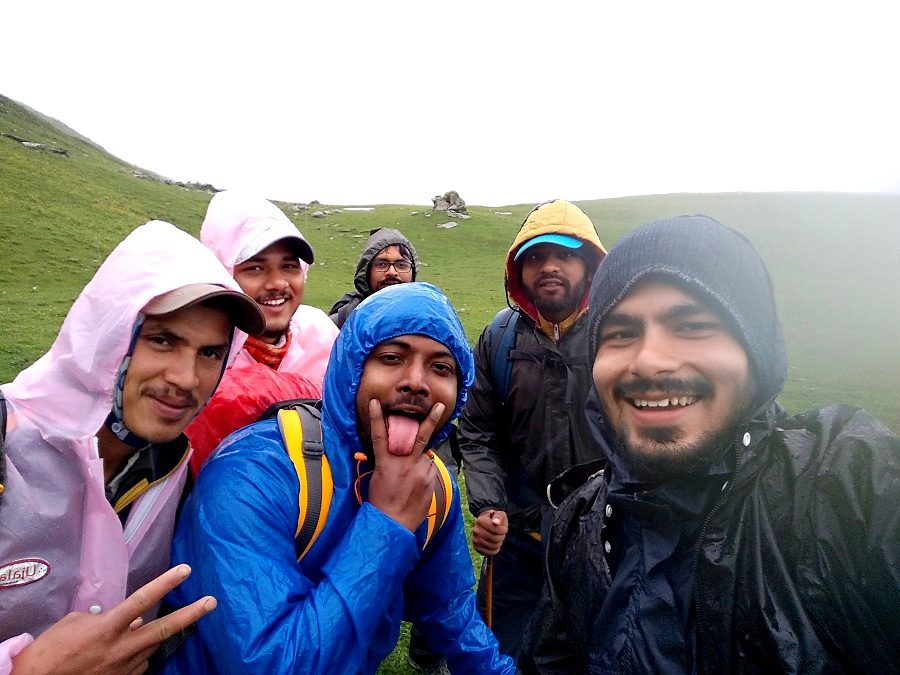 So, after reaching to Wan GMVN guest house, you can see what we did.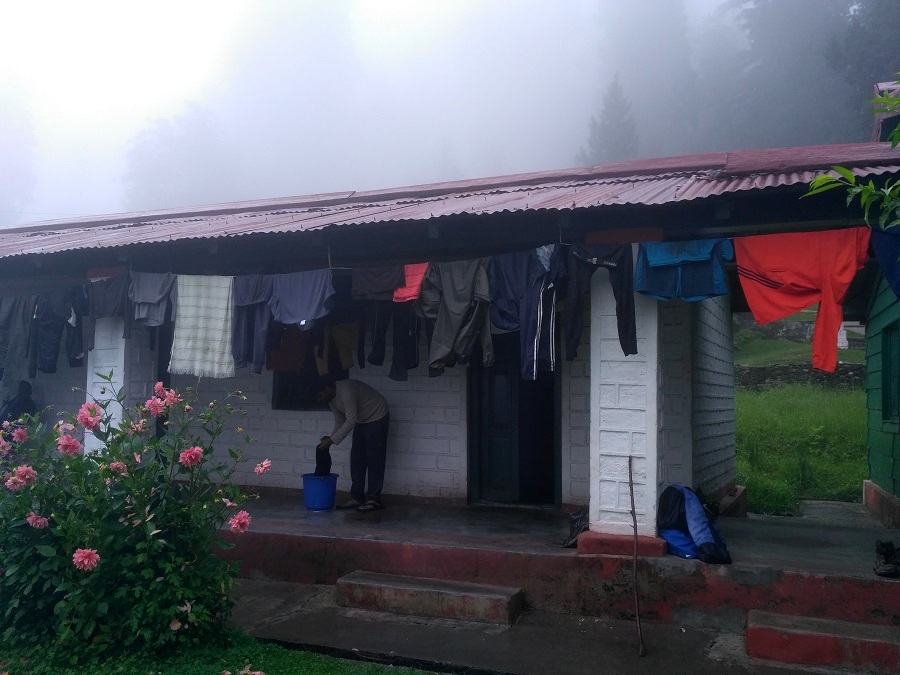 The Journey was finally over and tomorrow (means 8th July) we have to leave for railway station in kathgodam (again torcher ride). So before we take any next move, we want to celebrate this journey. And the only thing which we all want is some energy 😉
So yes we enjoyed a very good and heavy food 😉 😉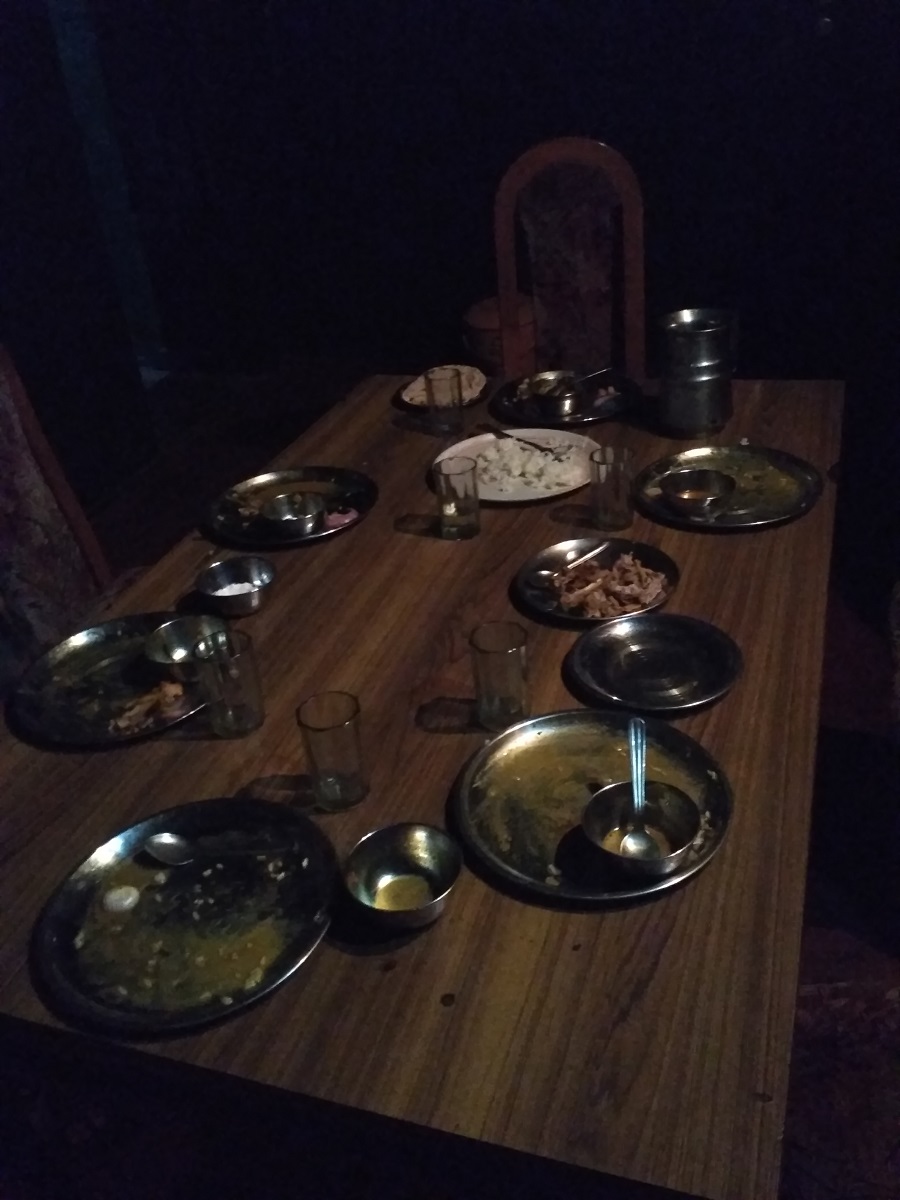 And the [su_highlight]next day ( 8th July )[/su_highlight], a last group photo with Rana uncle, Krishna bahiya and our mule.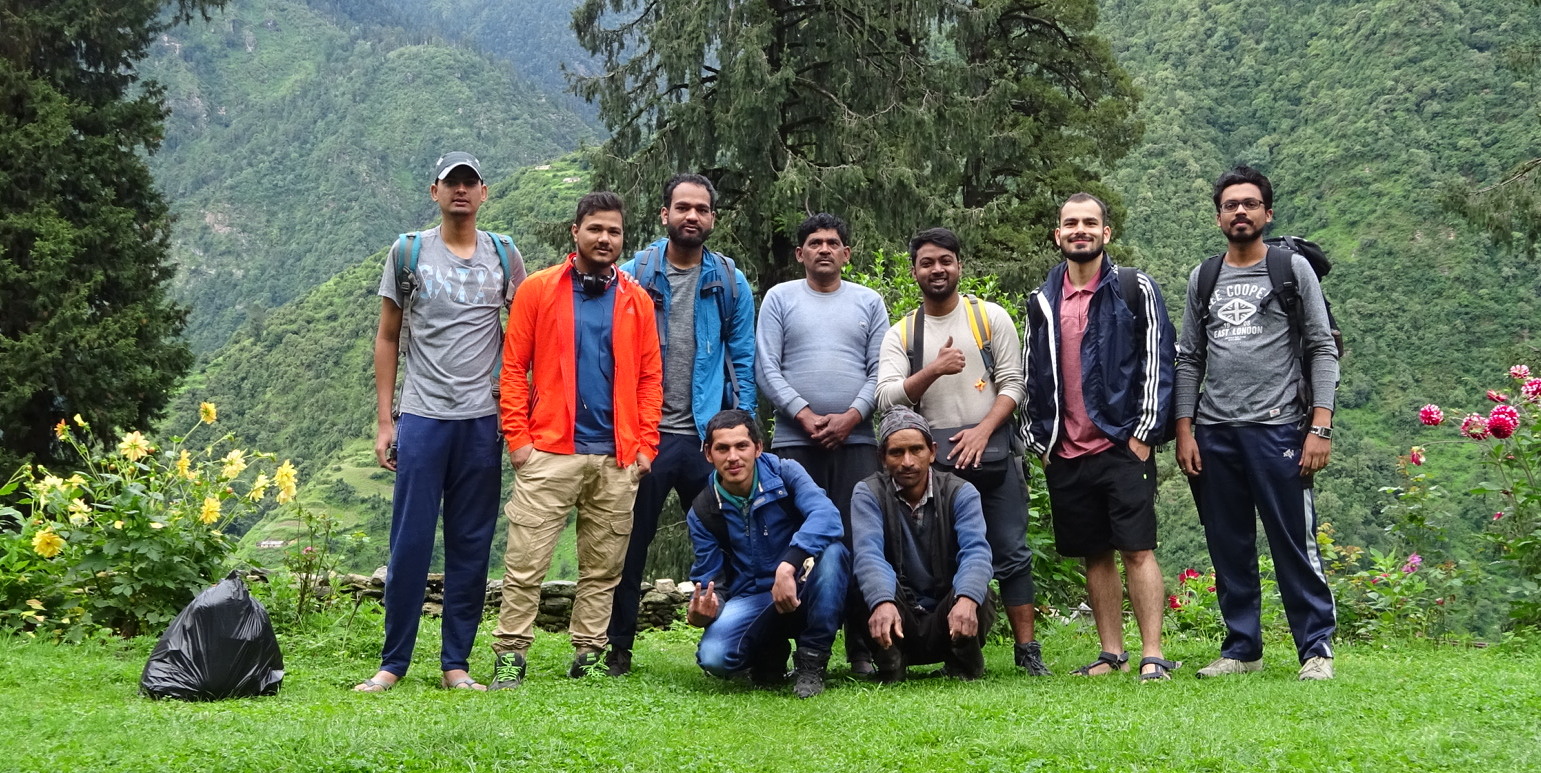 So ya It was All !!
---
I[su_highlight]nformation :[/su_highlight]
How much Roopkund trek will cost if you arrange everything on your own or how much this trek cost us.
Answer: As we did not do this trekking with any company/group/organization so we have to manually research everything first (which take one month research). Generally, company charge 8k to 11k per head for Roopkund trek. But our taste is something different, we like to plan our trip as it gives lot of experience and knowledge (regarding management).
So,
From Delhi-Roopkund-Delhi (2 July night to 9th July Morning),
Whole trip cost us INR 6,355 per head (we are six people).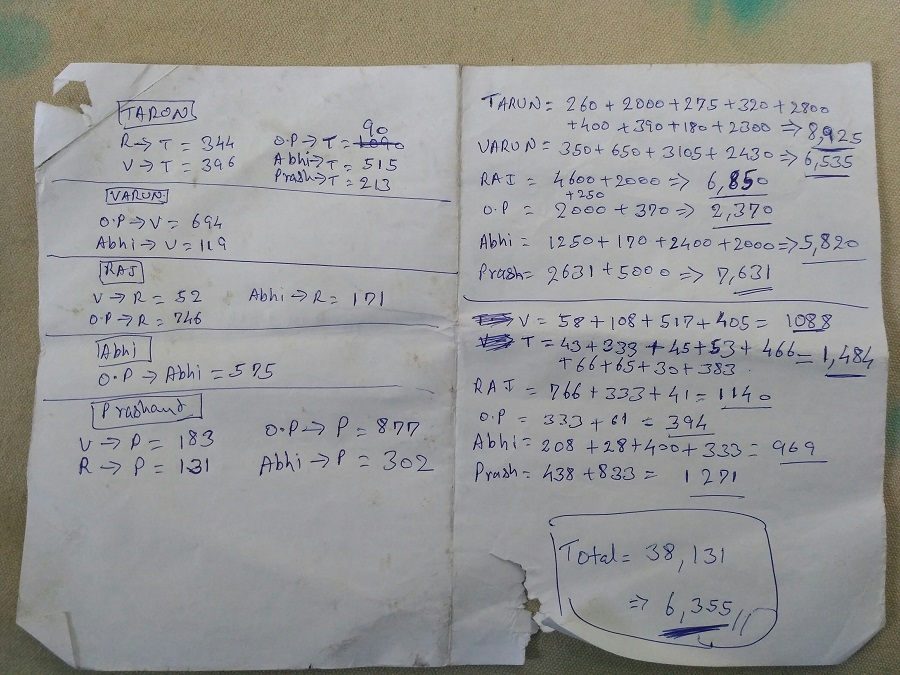 Note: Per head cost can be low if there will be 7 or 8 members.
---
So what I learn from this trip?
Going Roopkund in July will be the not best idea as there is very high chance that in whole trek you can face rain also the scenery of mountains covered with clouds every-time.
But for me,
It was not about beautiful scenery mountains
nor it was about that 1 M deep mystery Roopkund lake (where I just spent 15 minutes in whole one week trip).
For me It was,
All about getting away from my metro life. No phone calls, no client work…… simply nothing. Just me and my friends who just going to spend one week together.
I want to live those moments and memories and this is what I did in whole week. Those memories are now with me forever. I can forget my bank login details 😛 but I can't forget those trip moments.
And that is the reason I went for Roopkund trek in off season.
Do let me know what you think about this article?
2814 words, ten days of editing and writing to complete this article, so one comment is defiantly I deserve what you think?