Finally unforgettable trip is over. I am Tarun Rawat from New Delhi India. From 21st Feb to 28th Feb 2016 I went for a trip to Chandrashila Mountain Uttarakhand. This article is to share my whole journey. I will start from zero to end, so let's roll. 🙂 🙂
Part 01: Planning
I still remember when my friends Varun and Raj talk about our future trip during our college exam. Instead of studying for exam, we talk hours and hours about the trip that what we are going to do in trip and where we will go.
Oh sorry, I forget to mention about my friends. I went trip with my three friends Varun, Raj and OP (Om Prakash). We all study together and yes we also live together in college hostel, so bonding between us is very good you can say. 😉 😉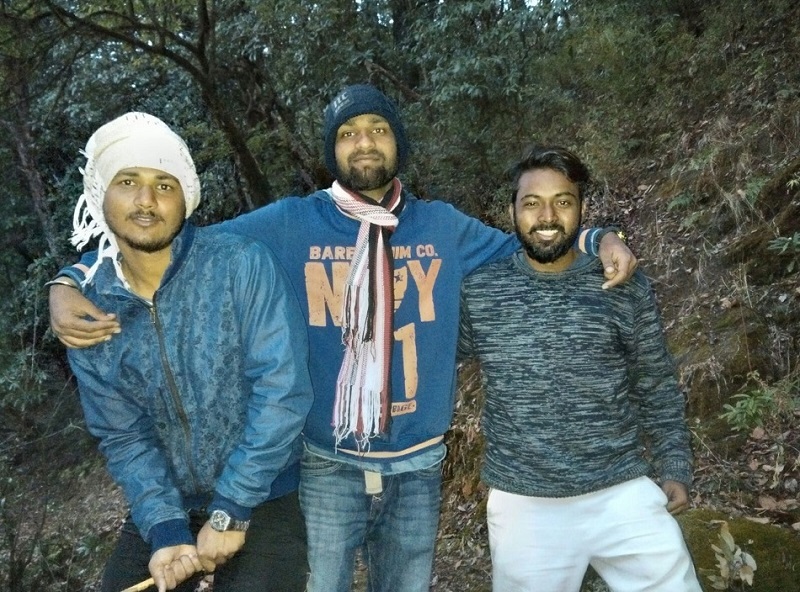 So coming back to the planning of trip, as I told we are planning for the trip two months earlier, by this you can imagine how crazy and excited we are for the trip.
Well, somehow we decide our trip location, which is Chandrashila Mountain in Chopta. Well, choice is not that easy we are confused between Kullu Manali and Chopta (chandrashila).
But don't know how we all agree on Chopta Trip. I think because of the peace of the mountain and challenging trek in snow which we face during trekking.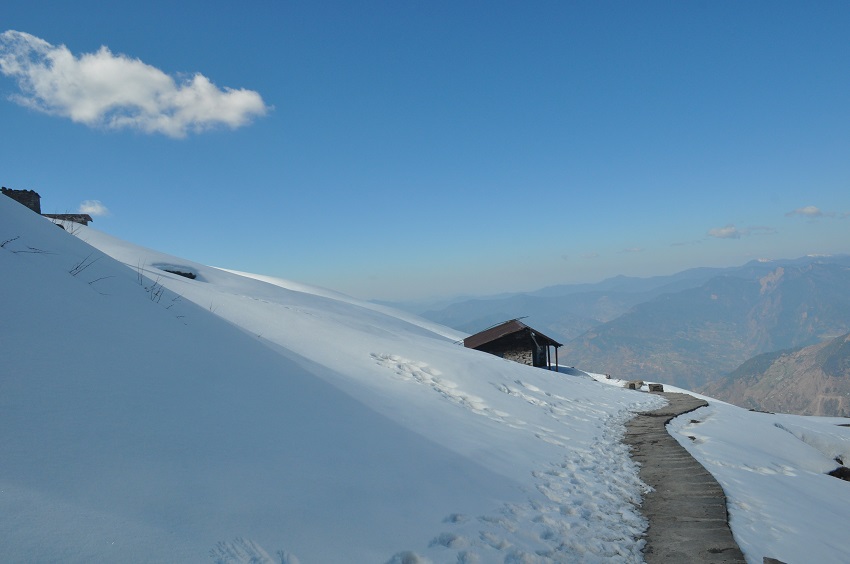 As we decided our trip location in mid of December month 2015, so now we have to wait for a long time because we all want to go for trip in last week of February.
Seriously you will not believe we four friends continuously chat for planning of trip at night. Slowly that day is coming near for which we dream from two months.
Part 02: Birthday Celebration
As I am living in New Delhi and my friends are in college hostel which is in Bhopal. So my friends arrive to Delhi on 20th Feb by Bhopal Express Train.
For me the best thing was that, my birthday was on 21st of Feb, so you can say it is a jackpot for me that I get a chance to celebrate my birthday with my friends and my family.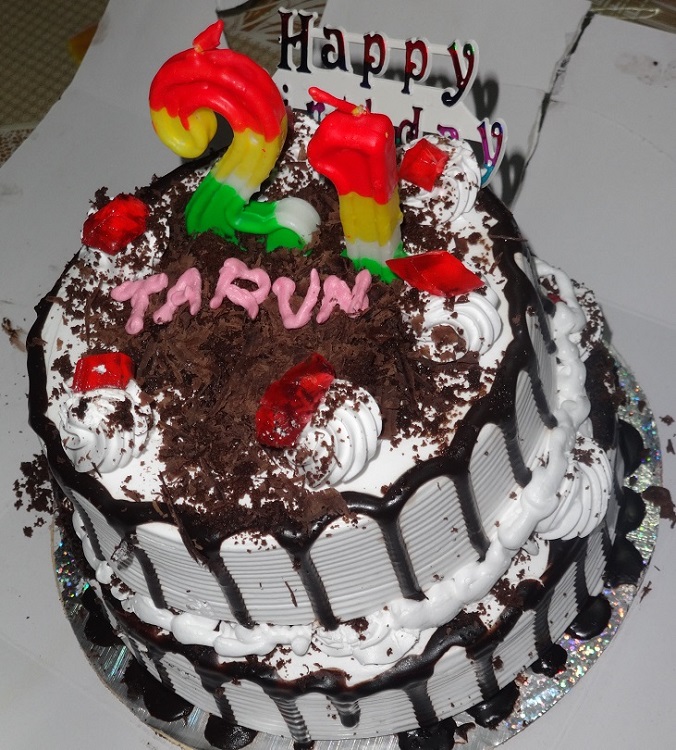 Yes, this is one of the best Birthday which I am going to remember in my entire life. All are together My Family, Nana Ji, my cousin and my friends.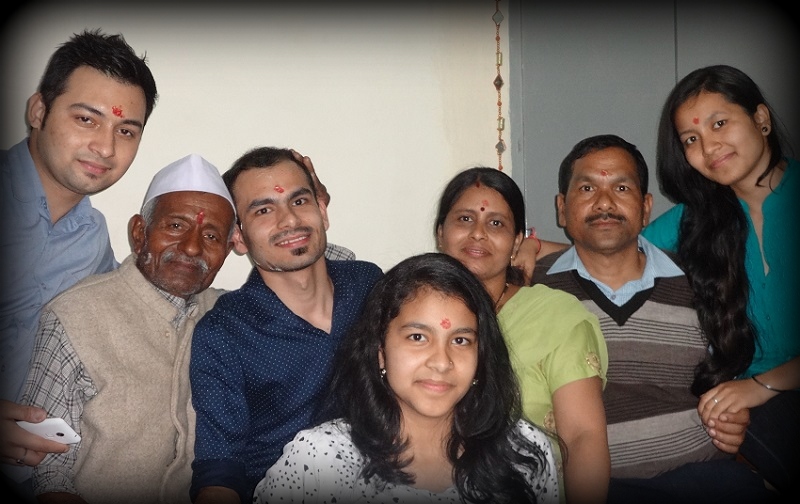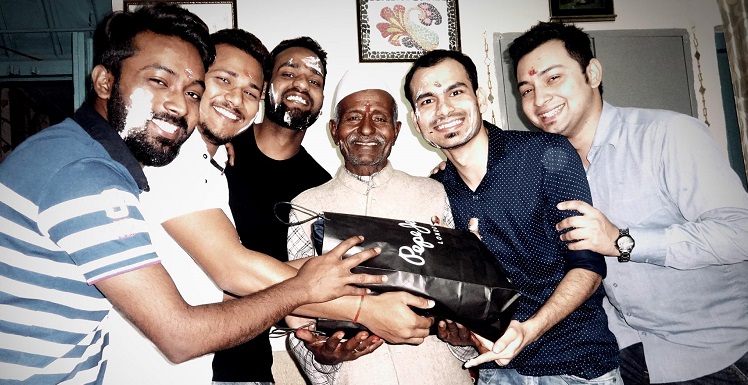 So after a very big blasting celebration, we are going to receive a very blasting news which totally change our journey starting medium.
Part 03: Bus Torture
Well, we already booked four seats in Nanda Devi Express AC coach. But I think destiny want to play with us. So a very shocking news we hear which was cancellation of our train on that day.
Yes, our train get cancel, and we get information just two hours earlier. Our train get cancel because of the Jaat Andolan.
Now we all thinking that our journey is ended before it gets start. Seriously what a shocking news it was for us. 🙁 🙁
We choose not to postpone trip but start trip by bus. We all rush to Anand Vihar Bus Stand Delhi, somehow we get a bus which is going to Haridwar.
Well must say Bus journey is not that good 😉 especially for my friends.. and the worst thing for us was that we have to continue by bus to Kund. Means from Delhi to Haridwar Bus and again from Haridwar to Kund By bus. Total distance near 400 KM 🙁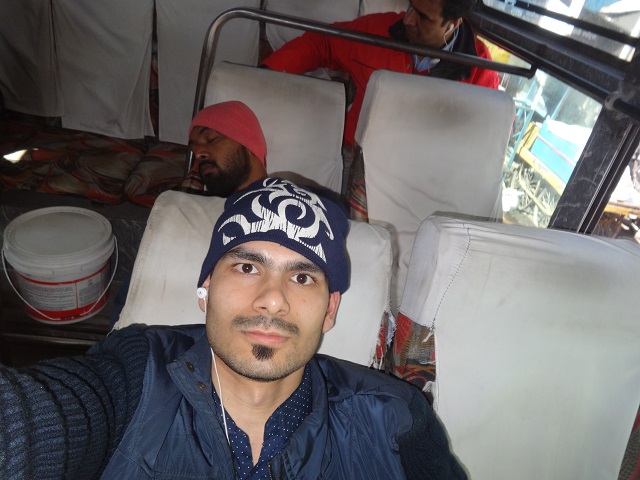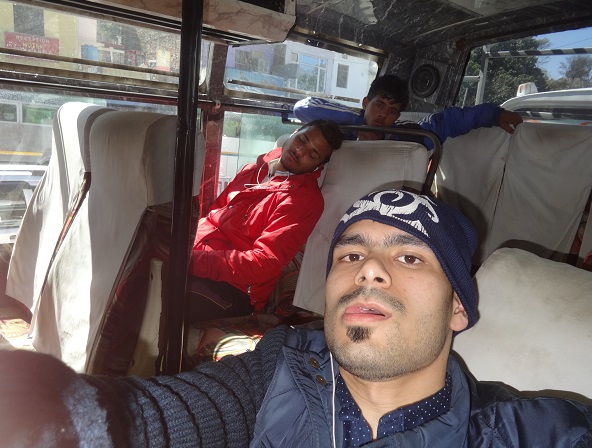 It takes around 15 – 16 hours to reach Kund from Delhi. Well, I can say I am good during bus journey but no idea about my friends… 😉 😉 especially Varun.
Part 04: Chandrashila
Finally, we step out of a bus journey. Now waiting for our guide Yogi bahiya. We already talked with him and planned our trip.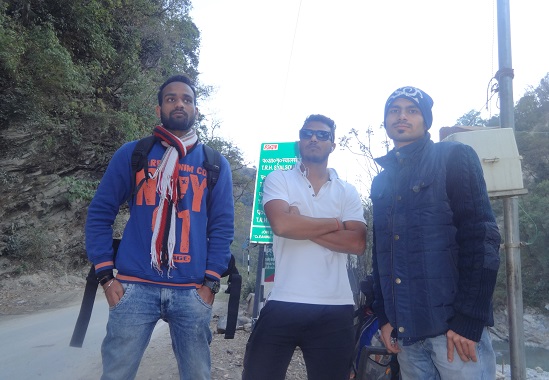 So he picked up by his Swift car. From that moment we feel like VIP .. heeee just kidding. But yes car journey from Kund to Baniyakund is very good compared to bus 😉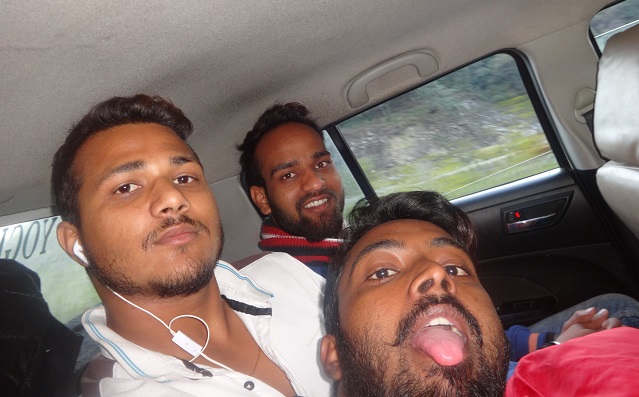 Finally our first hotel on 22nd of Feb which is in Baniyakund. No, no don't think that it is some 5 star rated room. It is just simple and sweet hotel (dhaba) which is near to Chandrashila Mountain.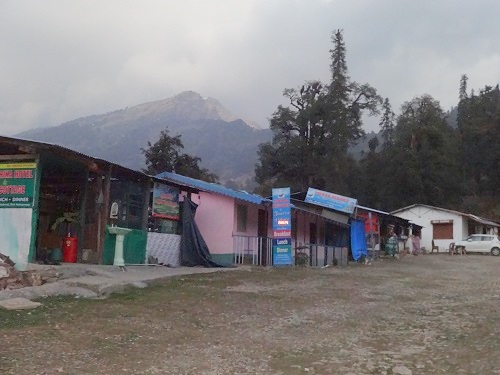 We had dinner there. Dinner is nice no doubt as we are hungry too. 😛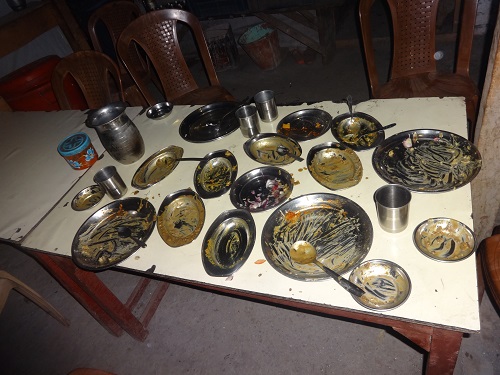 So now real adventure began
We woke up at 3:00 am on 23 of Feb and start trekking to Chandrashila mountain near 4:30 am. I am sure you are thinking that we are crazy. Yes you can say, but we are thinking to see the sunrise from the mountain that's why we start early.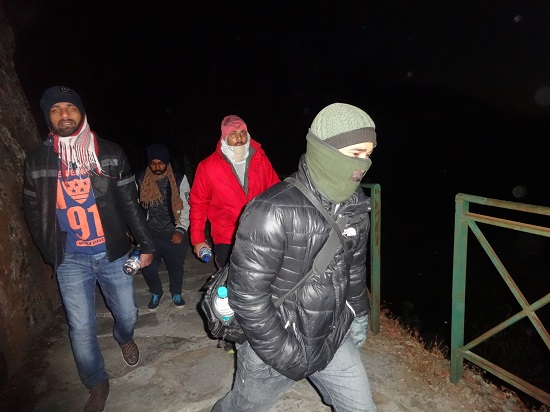 Honestly speaking temperature is below zero, although I don't have any device at that time to measure it but as our guide Yogi bahiya saying that temperature is around -5 degree celsius.
So the most challenging thing started which is 4 km trekking in a mountain with freezing temperature.
Each Step we put towards height, more we get exhausted. My two friend Raj and Varun not able to maintain trekking speed with us, don't know our trekking speed is high or their trekking speed is low.
Now me and OP (my friend) takes the lead and continue trekking, aiming to see the sunrise from the top of the chandrashila which is at height of 4000m from sea level. Our guide told us that we have to reach before 7 am to see the sunrise, so we rush.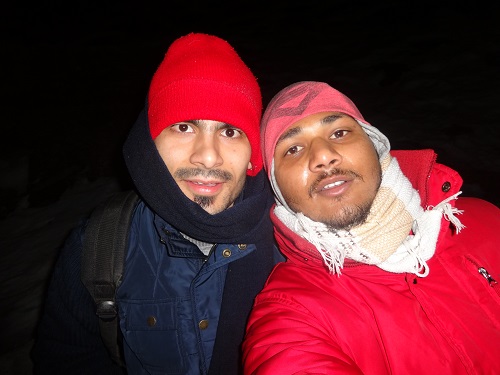 Who knows destiny plans something else for me. Well before trekking I eat nothing just a single apple. And now I have to pay for that bite.
When I completed half distance something wrong happen and I start vomiting. I am sure vomiting is due to apple and also I am sure that the more I trek more I vomit.
I choose to trek no matter what happen. Some how I cross Tungnath Temple which is just below Chandrashila peak. The distance between them is near 1 km.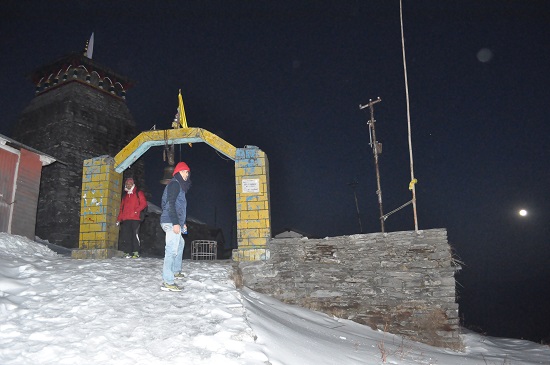 Now the most challenging path in front of me. Whole mountain is full of snow and if I slip in any corner it can turn to a serious injury.
At this time OP taken lead with our guide and rest my two friend Varun and Raj coming very slowly. So now I am alone with a very bad condition. With each 10 step I take, my mind force me to quit trekking and sit down to relax.
As I continue trekking in snow peaks, my body not helping me. My hands, legs are shaking my mind not able to judge properly due to lack of oxygen there and yes most bad thing is vomiting which make things worst. If I count I think I vomit around 6 to 7 times. 🙁 🙁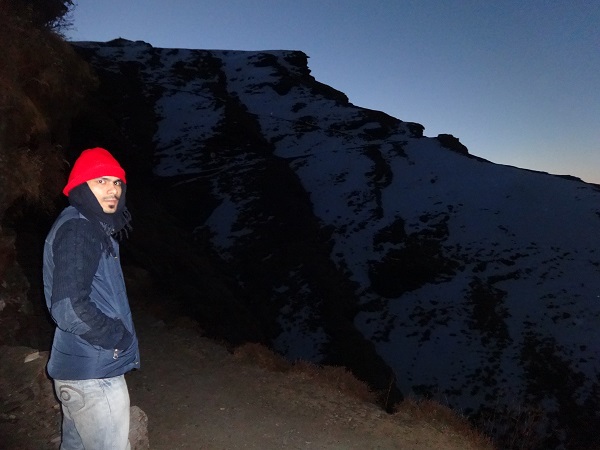 Now it is 7 am, I am sure that my friend OP with our guide manage to see sunrise from top of the Chandrashila mountain. And here I am just lying on snow watching golden peaks of mountain, still I have to trek 400 m to reach at top. Seriously at this moment I don't know how I manage to stand up and decide that I will reach at top of mountain no matter how much time it will take.
Seriously at this moment I don't know how I manage to stand up and decide that I will reach at top of mountain no matter how much time it will take.
Finally, I am at top of the peak at 7:20 am, I still remember that moment when I ring bell of small temple which is at top of mountain.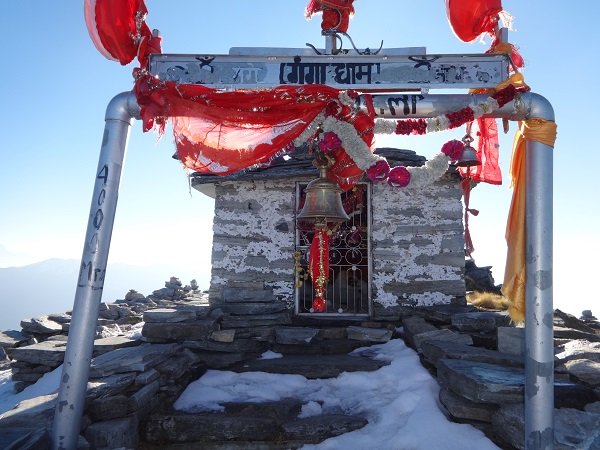 Wow what a beauty, what a view. These are words which come to my mind after watching all around. Sun light falling on snow peaks and making them golden in color. And then I realize something.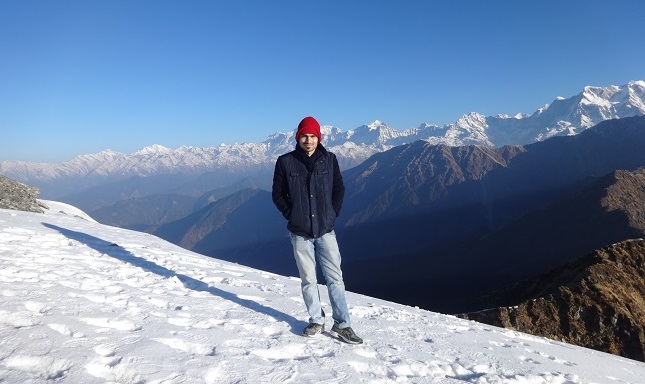 I am on top of snow mountain which is at height of 4000m, and during this trekking I feel lot of time to quit due to my bad health. But becasue of Attitude that I will make it to top of mountain, I reached there. So I learn and experience a lesson that, during any work in my life I will face many problems and get stuck also, it may happen that I get fail but the only thing which going to change whole story is the Attitude. My Attitude will decide that I am going to win or lose.
During trekking my attitude is to just climb on top of that mountain no matter what happen. And at last, I did it. 🙂 🙂
Surprise for us, my two friends Varun and Raj which we left in mid of trekking because of their slow speed, some how manage to climb.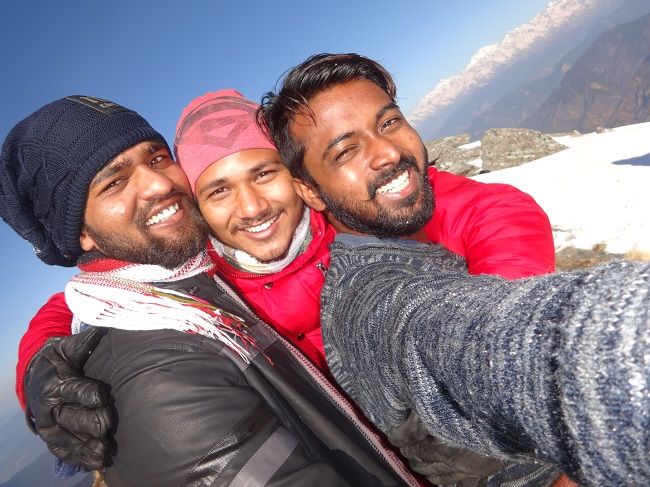 So photo shoot session started, we had great fun with snow. We play with snow throw on each other, really a great memory for all of us. We slide on snow mountain, draw drawing on it did every thing which our crazy mind tell us to do.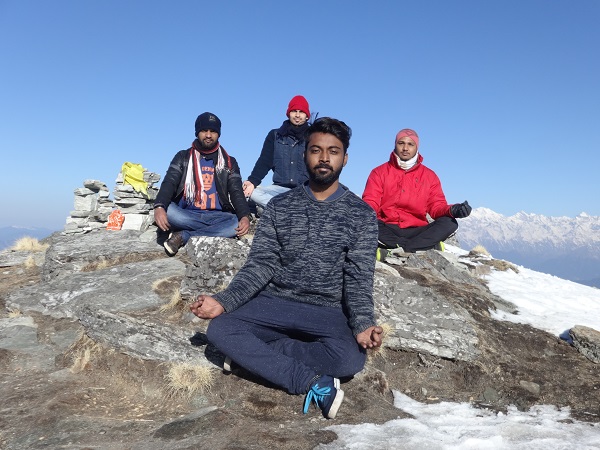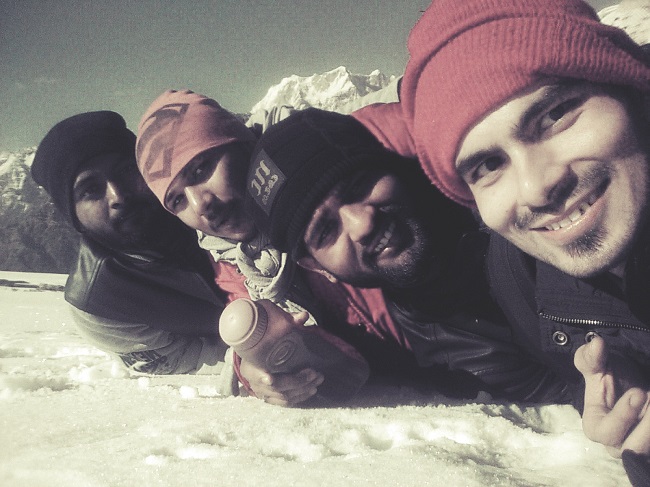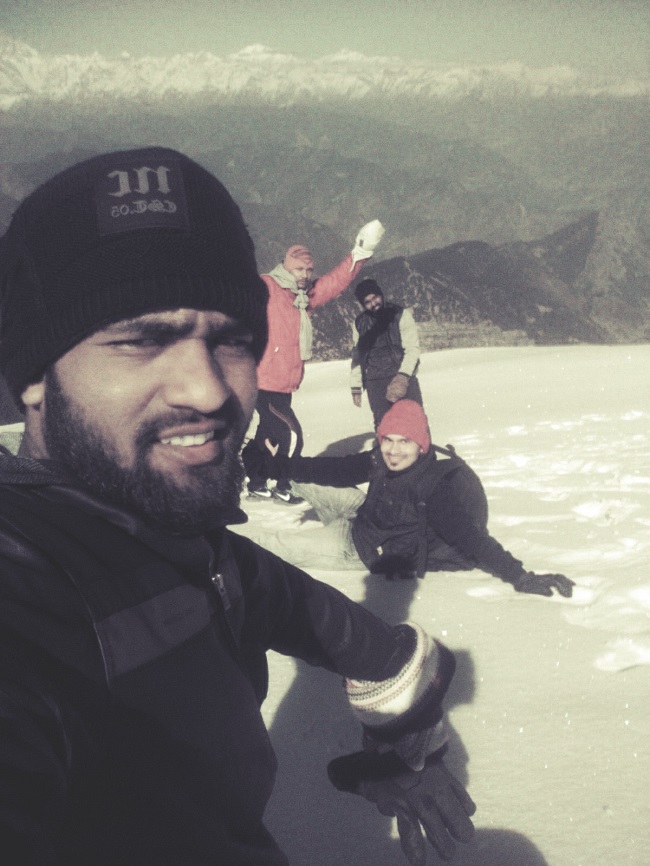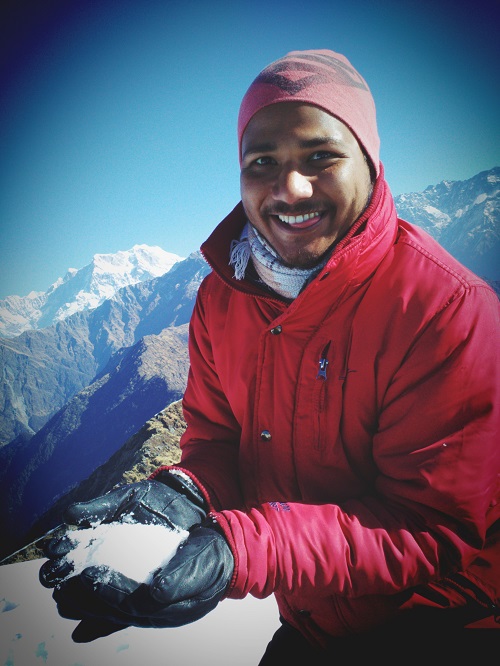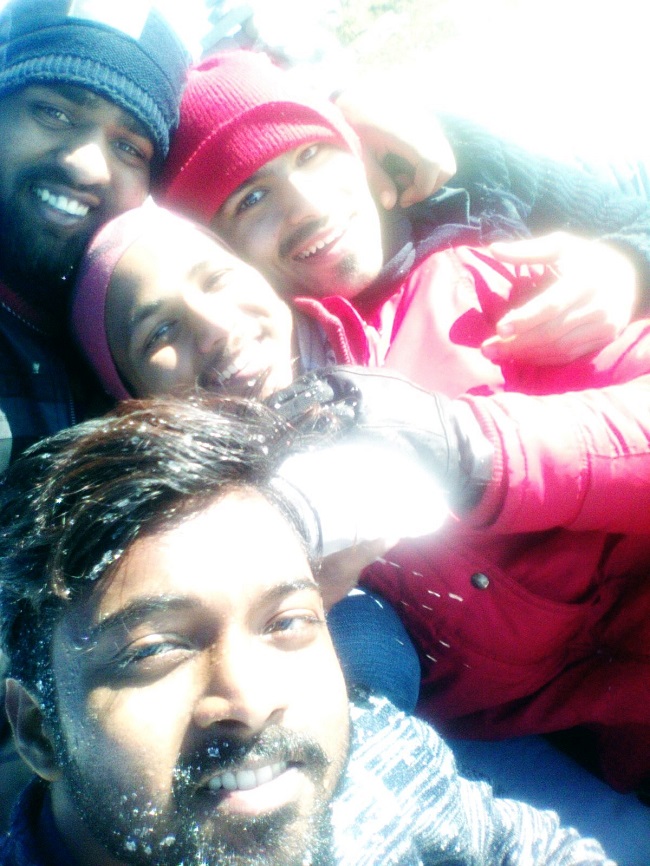 Finally, we trek down from mountain, if we stay for more time there we can suffer from headache because of low oxygen.
Our guide manage to make breakfast for us, and we had Maggi and tomato soup at Tungnath temple. After relaxing we decide to trek down and we are back again to our hotel in Baniyakund near 1 pm.
Part 05: Waterfall In Forest
24th of Feb now we plan to see waterfall which is in mid of forest. We check out from our hotel (dhaba) and started 10 km trekking in forest. Forest trekking is really a very dangerous because there we have no path to walk, we have to make our own way and the biggest dangerous thing is that Wild animal. As we are trekking in Government Wildlife reserved forest, which is totally made for wild animals.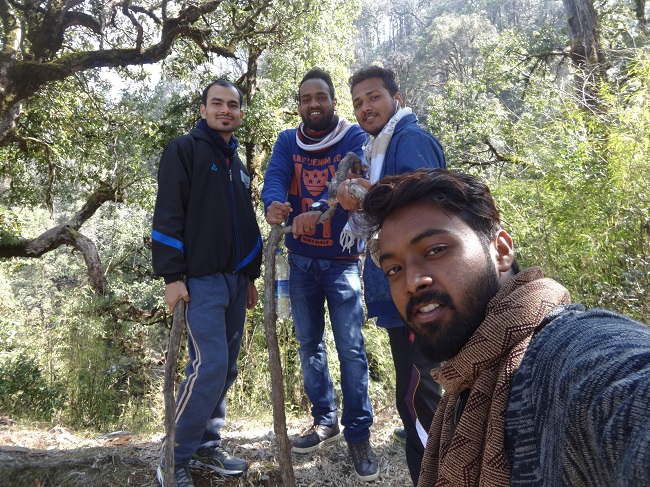 Our guide Yogi bahiya also in worry because of Bear. We are crossing area which is the best spot for Bear food. Well, we all are ready to face any trouble and decide to keep walking. After a long tough trek, we manage to see a very beautiful natural water fall in the mid of forest.
Water fall is around height of 100 m I guess, full of ice melt water really very chill. View is gorgeous you can say nature made it for us. Water coming on top and surround with big rocks at bottom.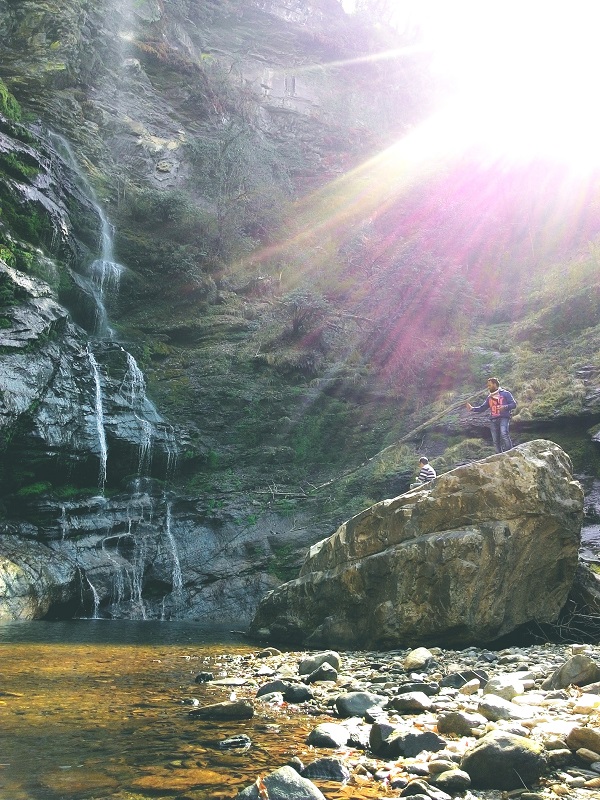 Part 06: Camping at Deoria Tal
After watching a beautiful waterfall in mid of forest we rush to our new location which is Saari Village. As name tell small village which comes in path to Deoria Tal. Our destination is Deoria Tal but we plan to stay one night in Saari Village.
25th of Feb, again 8 km trek started to Deoria Tal around 9:30 am. A very beautiful scenery coming in front of us during trekking. Some where during 1 pm we reach to Deoria Tal.
Deoria Tal is a pond which looks very beautiful, it is on the top of mountain at height of 2500 m. Local people say that it is the only pond in that area and this pond have no source of water. Well by viewing pond this is also a mystery for us too because pond has no source of water from top and no snow mountain near to it.
Again we did very new thing which we all friends never done. We all stay in a camp, near to pond (Deoria Tal) with animals. We had camp fire during night and also we listen several animals noise too. Really very exciting night we experience by sleeping into camp in an open area.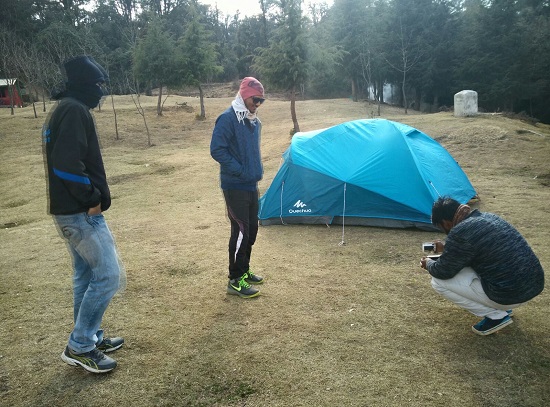 Part 07: River Rafting At Rishikesh
So now time to say good bye to Chopta on 26th of Feb around 10 am we rush to Rishikesh by a service jeep (taxi). This time journey is nice and my friends also enjoying it.
But again destiny want something else, My friend OP lost his camera in Rishikesh bus stand. Yes this is really a sad news for us at that time. We lost camera with some great memories capture in it. Somehow we accepted truth and preparing for our next day.
27th of Feb which is our sport activity day and we decide to do River Rafting in Rishikesh. We choose 26 km rafting in Ganga River. Really this is also something which we all friends never did earlier in our life, so with full of excitement and fear we started rafting.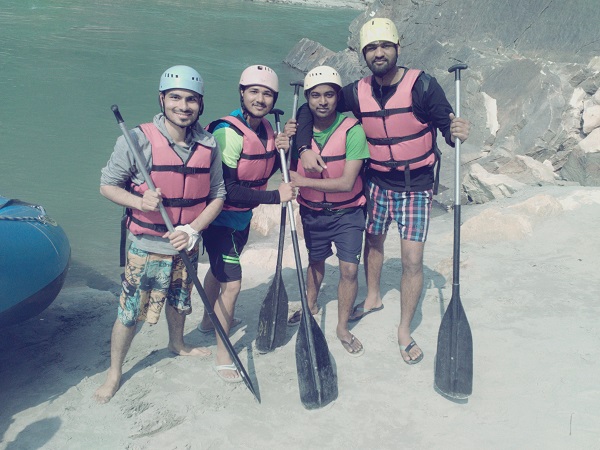 Yes, we cross some breath taking extreme rapids. In mid of rafting, we get a chance to jump from a cliff in Ganga river. Well, height of cliff is around 5 – 6 meter but, believe me, it really feel scary when you are standing at end of it. Well if you are in Rishikesh then you must do river rafting it is perfect spot to do it.
Well, height of cliff is around 5 – 6 meter but, believe me, it really feel scary when you are standing at end of it. Well if you are in Rishikesh then you must do river rafting it is perfect spot to do it.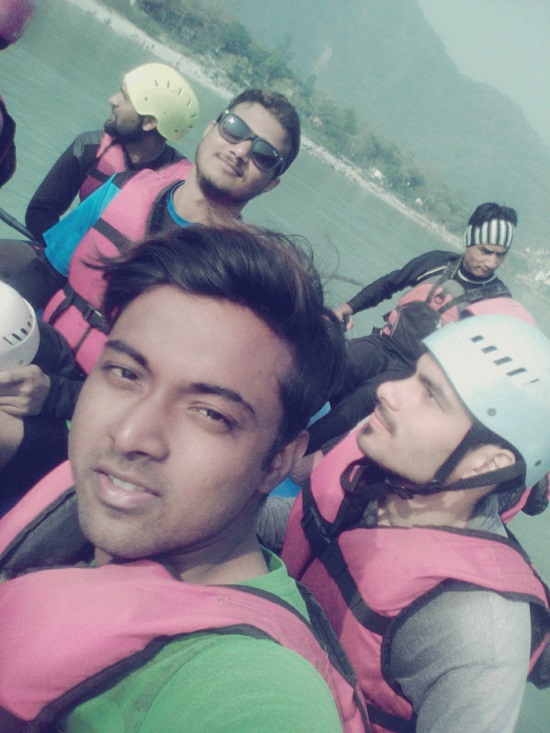 Now last day of our trip which is 28th of Feb. On this day we have to go Haridwar from there we have reservation to Delhi by train at 11 pm. Because we have quite a long time so we decide to spend some time in Rishikesh Ghat, we see Ram Jhula and also visited local market of Rishikesh.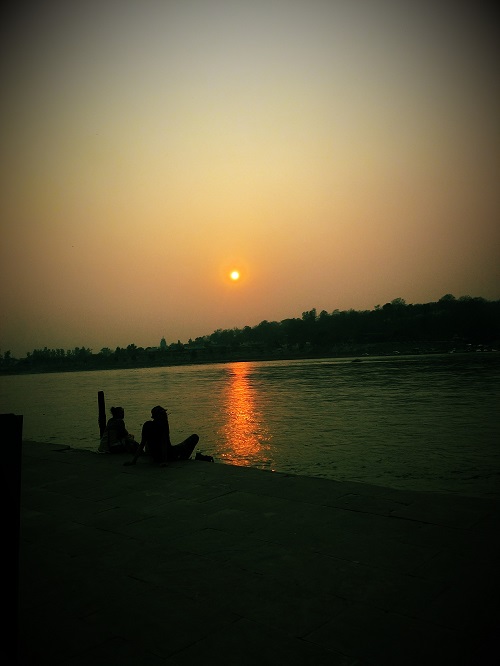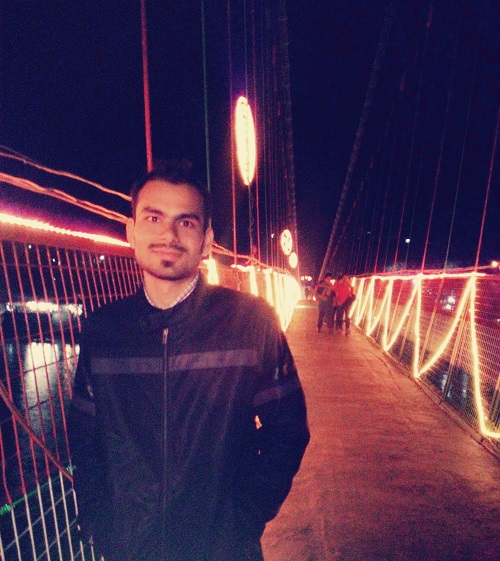 Near 5 pm we rush to Haridwar by local bus, then we catch our train. On 29th Feb Morning we are back again in New Delhi.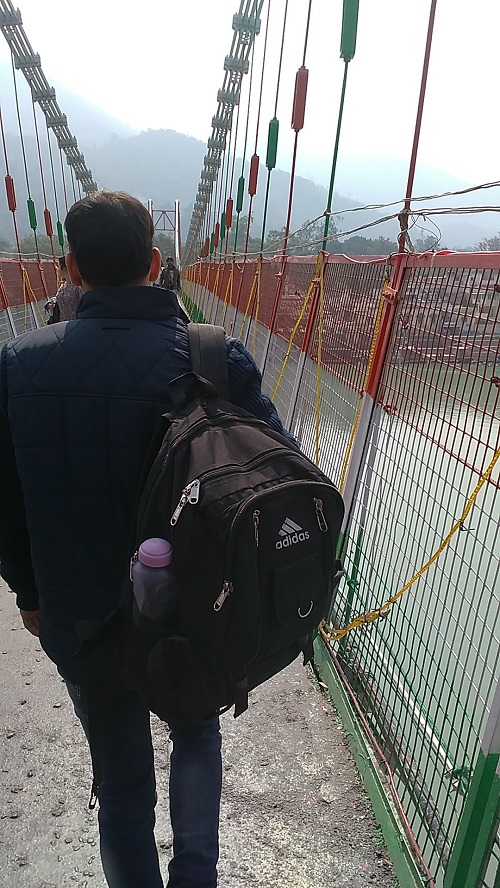 This is my experience of my journey. I waited for it, for a long time. Finally, this journey become memory to me for a life time. That's the reason I decide to write it down in my blog so that in future I will read it again and refresh each moment.
Those who planning trip to Chopta, Chandrashila or Rishikesh can leave message, I really like to help you in your trip planning.
Do Share

Your Views

, I really Like to Listen. 🙂