Every business men wanted to stay at the top in marketplace. If you work with excellent SEO for your website, still it will take time to reach to the very first page in SERP(search engine results page).You face immense competition while using SEO. One of solution is Google Ads which were earlier known as Google Adwords. The system through online promotion of various goods and services are carried out is called Google Ads. In this tutorial, you will get to know how to signup and setup Google Ads search campaign for your business. Almost, 74% of brands believe that PPC is responsible for their business growth.

 It is just like an auction. If you are conversant with your target audience and their search preferences then you can easily choose any search term for which you want to be visible. Moreover, you can set your bidding amount too. Digital advertisers consider Google Ads as the most popular network for PPC campaigns.
Signing and set up of  Google Ads
Step 1: Sign Up
First of all, you need a Google Account. If you don't have a Google Account then you need to create a new Google Account and then visit the Google Adwords website. The following page opens in front of you.

Once you have clicked on sign-in and entered the requisite details, then the following page will open for where you can create your first campaign.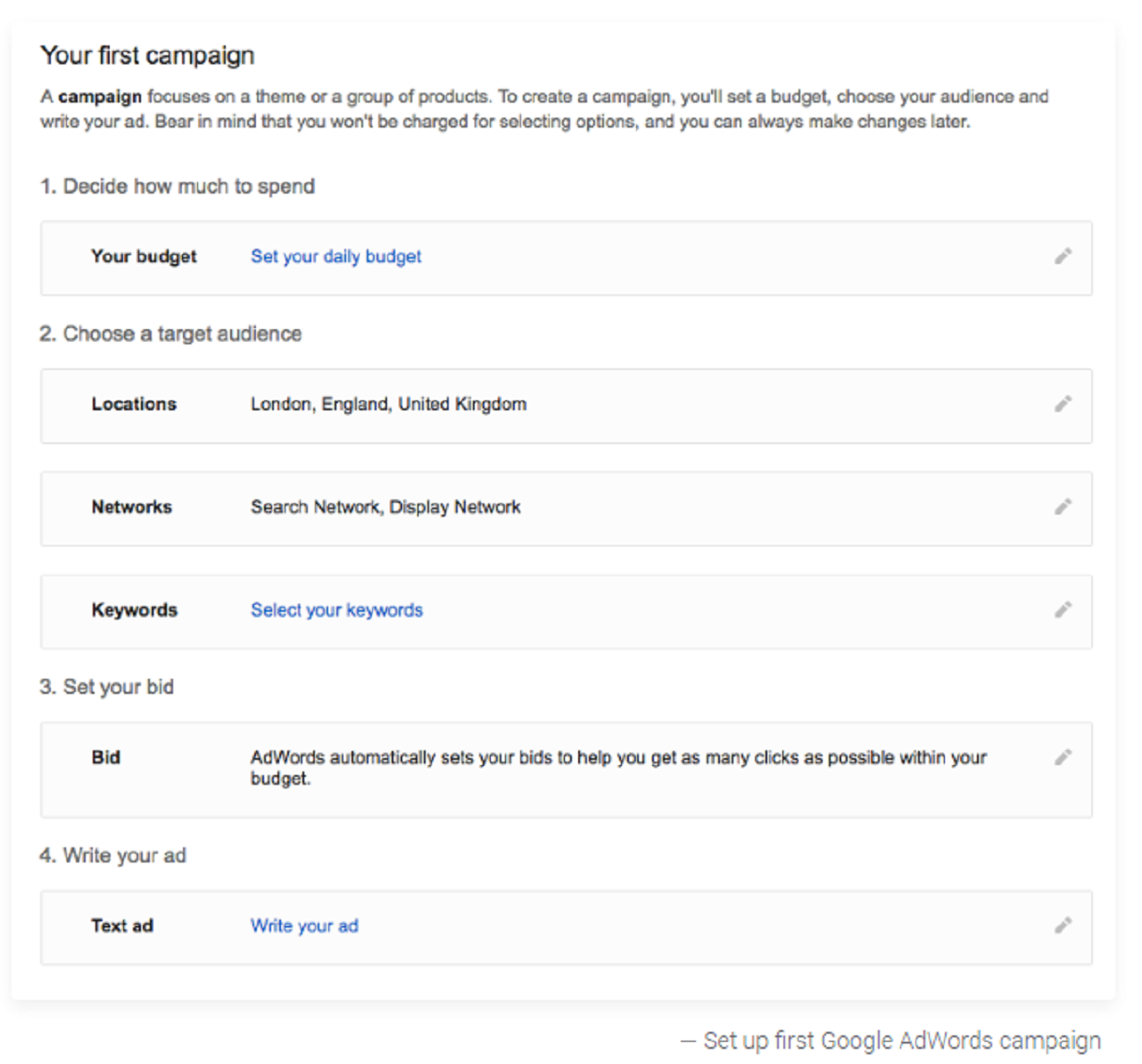 Step 2: Defining Your Budget
Setting a budget is a very important step in Google Ads. It helps you in determining that you have spent an amount wisely and don't exceed your limits of expenditure. Generally, the daily budget is dependent upon the number of visitors on your website. In case, if you are a beginner, you can set a small amount of budget for your Google Ads.

When you have  selected the desired currency and budget, click on save and move on to the next step.
Step 3: Choose Your Target Audience
Here you can mention the geographical location of your target audience. There is an advanced search option, from where  you gain access to "radius targeting". Radius targeting helps you to  target a certain radius from your zip code.  

Step 4: Select A Relevant Network
Now you can either opt for Google's Search Network and Display Network. The main difference between  Search Network and Display network is that search networks put your ads on the google SERPs, on the other hand the Display Network will showcase your ad on any website that showcases ads.
.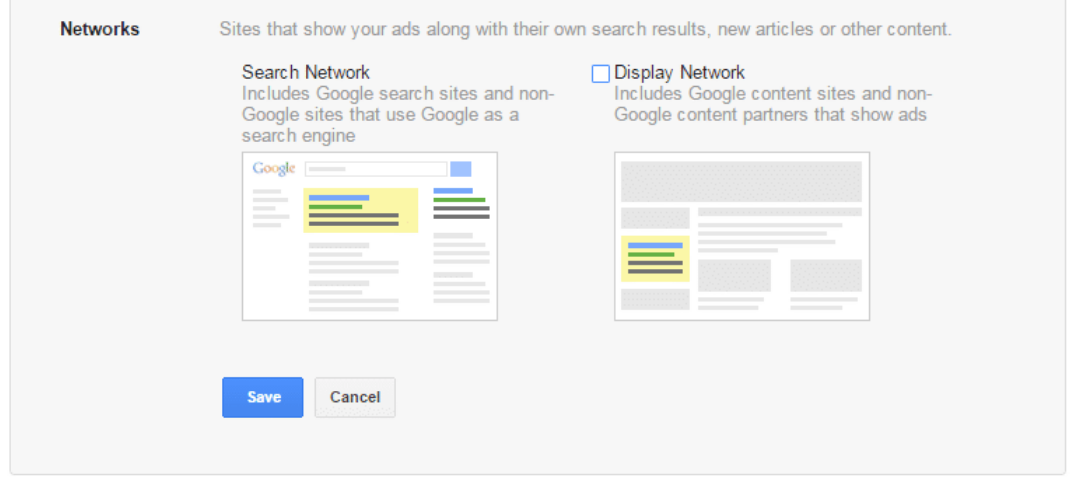 Note:- If you are a beginner with small businesses, it is suggested to go with the Search Network as it shows your ads to users that are searching the keywords suitable to your business. But if you want to do branding then you can go with Display ads.
Step 5: Pick Your Keywords
Now, you have to add relevant keywords for which you want to  target the audience. Google allows you to pick somewhere between 15-20 keywords. You can also add more if you want.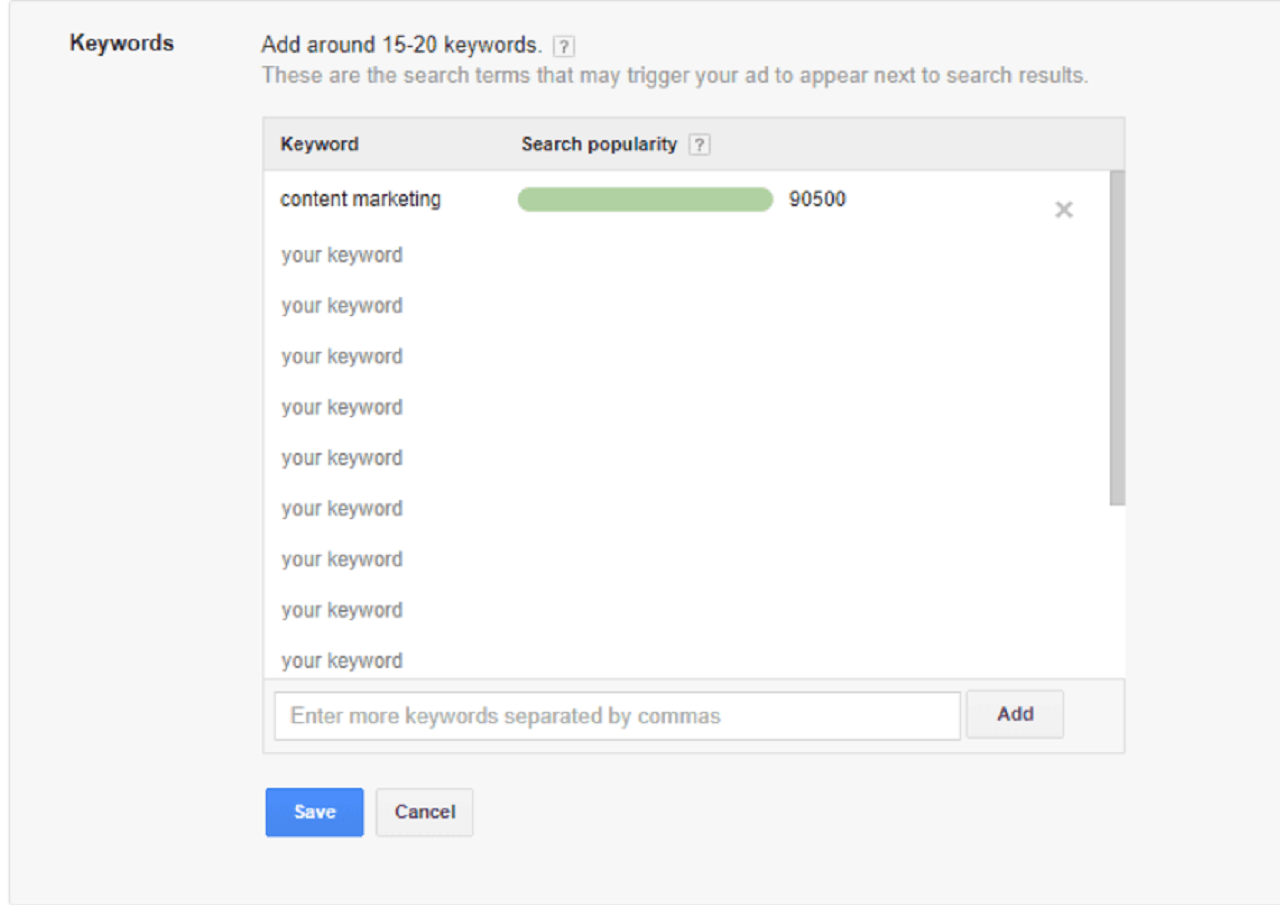 Step 6: Bid Setting
Bid setting is done in order to set bid amount. This is basically an amount that you are going to pay for every person who click your ad.Here you will see two options, first is Google Ads automatically set your bid amount by itself for getting maximum ROI. In second case, you can set your bid manually. This can done by using Google's Keyword planner.
In case if you are beginner, you can go with manual bids. Also, it can be more cost effective as well.

Step 7: Ad Writing
Ad writing is a daunting task. The way you write your ad can totally reflect your message to the target audience. You ads should involve CTA(call to action). It should deliver accurate information. Moreover, your services, your offers should be clearly demonstrated in your ads. It should be as much capable as it can convince a user to do a click on it. And emphasize users to visit your website. You have take care of several things while writing ads
Your ad should be precise, it should deliver to the point information.

Headlines must have CTA(call to action) in it. As it can convince people to click on it.
Parts of a Google Ad:
Headlines: You can add two headlines as Google Adwords permits to do so. But make sure, its characters should not be more than 30. Also use the space wisely. 
Note:- You have to add one of the relevant keyword in your headline text.
Description:  This section can have 80 characters in it. You can add your message here. Also, you can add offers and discounts here.
Step 8: Create Your Ad
After writing of your ad copy, you have to click on the "Save" button, present at the bottom of the page.  Google will query you about business and payment data. 
Note:- Whenever your set budget gets over, you will be charged accordingly.
Step 9: Add Billing Details
Now you will be prompted for adding billing details. This should be done before ads starts triggering. When your Google ads account setup, you have to do some campaign settings. 
Step 10: Ad Delivery Settings
After your basic setup is done, you have to modify advanced campaign settings.  There you need to adjust your ad delivery option. For achieving more control, it should be preferable to rotate ads evenly.
Bonus: Conversion Tracking for Google Ads search campaign
Google ads allows free conversion tracking. Small business has two main areas for tracking conversions.
 Websites:  Customer make a click on your ad, then go to your landing page, and take relevant actions.
Phones: Any mobile user make a call on the number stated in your created Google Ad. You can use many smart features like smart bidding, phone calls, website actions  etc. You can also make use of Google analytics account for conversion tracking. Google also track the quality ad score of your Google ad. Quality score 7/10 is good to go but anything lower than 7 is something that you have to take care of.
Also Read- Reasons Of Low Quality Ad Score In Google Ads and how to fix?
---
Final Thoughts
If you want to grab new customers for your business, then Google Ads are good to go. But the main thing is you have to use it wisely as it incurs so much cost. No doubt, it has some benefits also but if you want to get maximum ROI, then choose your bidding amount and strategies after considering several things.Executing successful ad campaigns is not a cup of tea for everyone so, be a slow learner in the beginning and follow  the steps mentioned for signup and create Google ads search campaign for your business. In case if you are facing any issue, need help or looking for Google ads consultant then you can contact us.