Digital Marketing has totally changed the way of marketing these days. It offers so many things to incorporate in marketing like Search Engine Optimization, Pay-Per Click (Google Ads) , Search Engine Marketing, Social Media Optimization, Social Media Marketing. Google Ads came into existence in the year 2000. Do you know what? These days at least 95% of Google Revenue generated from advertising and promotion. Google Ads is the best way of investment for any small scale to large scale business. This is the most flexible tool that assists the advertisers to monitor and adjust the money on advertising. In this article, we will discuss the types of Google Ads campaigns .
For building a marketing funnel, there are varied types of ads campaigns. In order to build prospects at each and every stage of their buying journey, adwords targeting is deployed. 
Meaning Of Google Ads Campaign
The set of ad groups which includes Ads, Keywords and Bids  that share a location targeting, budget and other things is called campaign in Google Ads. Here, the role of campaigns is to manage and organize varied goods and services that your website or your business may provide.
Before knowing the campaign types, it is important to know what is your goal?. Goals include: Leads, Sales, App Promotion, Brand Awareness, Product and Brand Consideration and website traffic. 
Google Ads Campaign Market Statistics
Many marketers have some queries in their mind before getting a deep dive into the world of Google Ads. But you must focus on the following things:-
Types of Google Ads Campaigns
1. Search Network
Your ads display on various other searching sites when your keyword matches with their search intent. The following are the places where your Ads displayed:-
Google search sites: Here Ads shows on above or below the Google search results. It can either appear beside, above, or below search results on the shopping tab,  Google Play, Google Maps, and Google Images
Google search partners: Google Ads might display on search partners of Google's websites. Talking about the text Ads the search partners possess various websites and Google sites.
Also Read– Create Google Ads Search Campaign (In Just 10 Steps)
Types Of Ads On The Search Network
There are various kinds of Ads appear on Search network like Dynamic Ads, Text Ads, call only Ads. Usually the Ad is labeled with "Ad" or "Ads" label on search page results. The Advertiser can add various details in the Ad extensions like phone number and business location.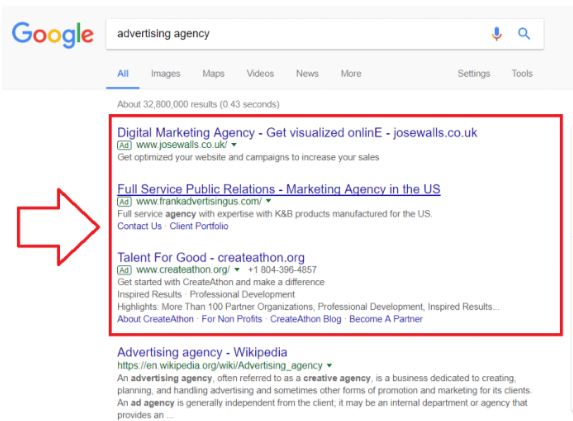 What Is The Use Of Search Network Campaigns?
You can use this when you have low budget.

If you want to promote your Ads on Google Maps.

It acts as an appropriate choice for most businesses.
2. Display Network
In display network, different variety of formats are allowed and websites are selected via Adwords. This permits advertisers to advertise their business in different ways.
Text ads: Here the text Ads are kind of same as in search networks. You can simply create search network with display select campaign.
Image ads: As is clear from the name, you can deploy images here and these kinds of ads are more attractive.
Rich media ads: These are just like image ads, but it possess more interactive elements as well as  animations that allow it to become more eye catching.
Video ads: Here a  video can be embedded to play directly within it.
The advertisers choose the placement according to their needs.
Demographic/Geographic & Language targeting

: Here targeting is done on the basis of specific audience that can be used to target people on the basis of location, gender, age etc.

Contextual targeting:

Here keywords are selected that focus on getting the adverts onto websites that are appropriate to the business.

Placement targeting

: Here advertiser chooses particular website for showcasing their ads.

Topic targeting

: In this,advertiser can choose website category to showcase his/her ads on.
When Should You Use The Display Networks?
It is used for building brand awareness

For creating remarketing campaigns

In case, If you want to display ads on YouTube.
3. Video Ads
With the help of Google Ads platform, you can advertise on YouTube. Do you know? People watch almost 2 billion hours of YT videos per day. This way a lot of potential customers are engaged. Most probably, you have seen ads that starts before YouTube videos starts. Moreover, you can here also decides where to show your ads. There you can choose the Ad format. You can also choose the options of skipping the ads. You for the most part observe these sorts of Ads that you can avoid following 5 seconds. 
When Should You Use Video Campaigns?
If you want to promote video content.

In case you want to create placing your commercial video content on YouTube.
4. Shopping Ads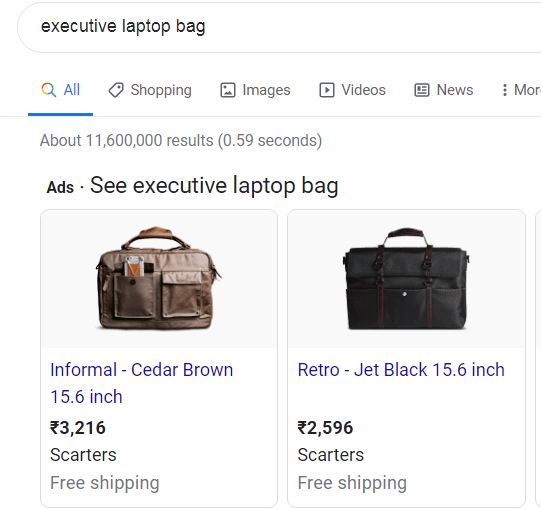 Google Shopping Ads are quite simple and don't involve much setup. Moreover, you also don't need to select other features. These Kind of Ads include Product Image, Landing Page, Brand Name and price. Such campaigns work well for retailers(ecommerce retailers) who are actually willing to promote online and local inventory. Google Shopping Ads also show on YouTube as well. You have seen many times on Youtube when any video starts there is an Ad that shows there like Myntra Shopping or Nykaa Festive sale.
5. Universal App Campaign
Universal App Campaigns are kind of  an automated ad type in Google Ads. It assists the promoters to generate more app installs and/or drive in-app conversions. If you use universal app campaign, you'll now show up in the following places:
Google Play

Google Search

Google Display Network

YouTube
---
Final Takeaway
In this article, we have discussed the types of campaigns in Google Ads. We hope this article works for you. In case if you are facing any issue, need help or looking for Google ads consultant then you can contact us.
Also Read:- Google Search vs Display Ads : Which Is Better For Your Business?